Grammy award winning metal act Korn have announced details of their forthcoming live CD/DVD release, 'Live At The Hollywood Palladium', released on September 10th 2012. The release sees exclusive gig material from a one-off show on their recent tour supporting latest album 'The Path Of Totality', and brings guest appearances from Skrillex, 12th Planet and more. Further details can be found below: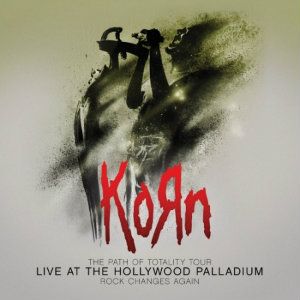 01.) Get Up!
02.) Kill Mercy Within
03.) Illuminati
04.) Chaos Lives In Everything
05.) My Wall
06.) Way Too Far
07.) Narcisstic Cannibal
08.) Here To Stay
09.) Freak On A Leash
10.) Falling Away From Me
11.) Predictable
12.) Another Brick In The Wall
13.) Shoots And Ladders
14.) One
15.) Got The Life
16.) Blind
The release will be available as both CD/DVD or Blu-Ray formats. Pre-order links can be found below:
CD+DVD:
Amazon: here
Play: here
HMV: here
Blu-Ray:
Amazon: here
Play: here
HMV: here
Founder & Editor for DEAD PRESS! | Atheist and antitheist. | Judge of the quick & the dead since 1989.