Hopeless Records have just released a new compilation album, titled 'Love Is Hopeless… 2013', which features a range of tracks and exclusive covers from a range of bands on their roster, including All Time Low, We Are The In Crowd, Air Dubai and more. You can find the album artwork, tracklist and iTunes link below: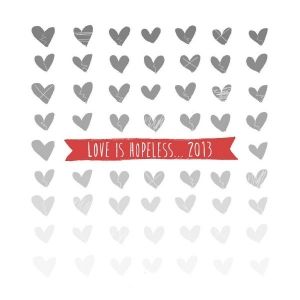 01.) All Time Low – 'True Colors (Cyndi Lauper cover)'
02.) We Are The In Crowd – 'Grenade (Bruno Mars cover)'
03.) The Used – 'Surrender'
04.) Air Dubai – 'Toxic (Britney Spears cover)'
05.) Divided By Friday – 'Locked Out Of Heaven (Bruno Mars cover)'
06.) For The Foxes – 'I Will Follow You Into The Dark (Death Cab For Cutie cover)'
07.) Yellowcard – 'Always Summer (Acoustic)'
08.) Anarbor – 'Useless'
09.) The Dangerous Summer – 'No One's Gonna Need You More (Acoustic)'
10.) Driver Friendly – 'Lost Boys'
You can purchase this album now from iTunes by clicking here.
Founder & Editor for DEAD PRESS!