Ghostfest have released yet more bands for its 2013 line-up. Headlining alongside The Devil Wears Prada will be hardcore legends Terror, along with a further five newly added bands. Check out the poster below for the full line-up of the fesitval as it stands so far: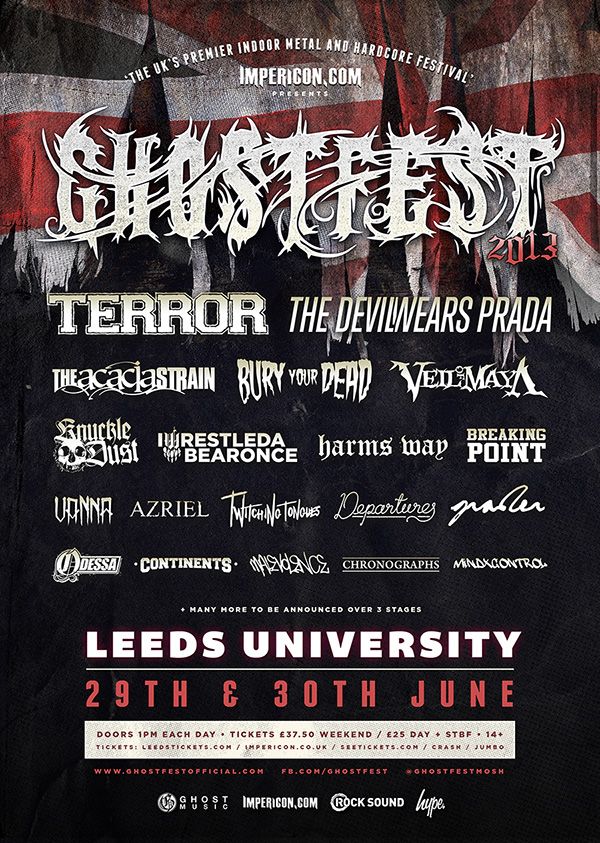 The Acacia Strain
Azriel *
Breaking Point *
Bury Your Dead
Chronographs
Departures
The Devil Wears Prada
Grader *
Harms Way
iwrestledabearonce
Knuckledust *
Malevolence
Mind X Control *
Odessa
Terror *
Twitching Tongues
Vanna
Veil Of Maya
* = latest addition
This year's Ghostfest takes place on June 29th-30th at Leeds University. Tickets cost £37.50 for the weekend or £25 for a single day. Tickets are on sale now and are available to purchase from www.seetickets.com, www.ticketline.co.uk, www.leedstickets.com, Crash Records or Jumbo Records.