Fun Lovin' Criminals will be releasing a special, 3 CD deluxe edition of their classic debut LP 'Come Find Yourself' on February 19th via Edsel/Demon Music Group. The album will include live and alternate versions of songs and bonus footage, and you can find the artwork and tracklist below: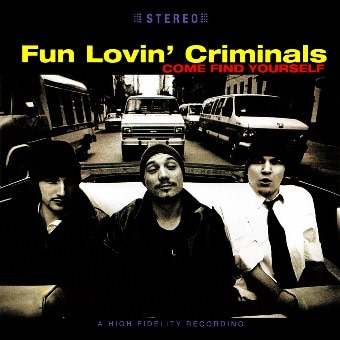 01.) The Fun Lovin' Criminal
02.) Passive/Aggressive
03.) The Grave And The Constant
04.) Scooby Snacks
05.) Smoke 'Em
06.) Bombin' The L
07.) I Can't Get With That
08.) King Of New York
09.) We Have All The Time In The World
10.) Bear Hug
11.) Come Find Yourself
12.) Crime And Punishment
13.) Methadonia
1996 CD Bonus Tracks
14.) I Can't Get With That (Schmoove Version)
15.) Coney Island Girl
Frontman Huey Morgan said, 'It's a very unique record for the times, and remains so today – it's not dated. It burned a path for crossing genres that we now take for granted. Looking back, it was a good start for a career in music that was uncompromising. You can tell listening to it, it was exactly the way we wanted it to be. There's still a lot of love out there for 'Come Find Yourself''.
Pre-order it here.