Download Festival, Britain's premier hard rock and metal festival, has announced a monolithic new wave of bands for the 3 day bash, including Architects, The Ghost Inside and Bury Tomorrow. The full list of the 49 freshly announced bands along with the updated poster can be seen below: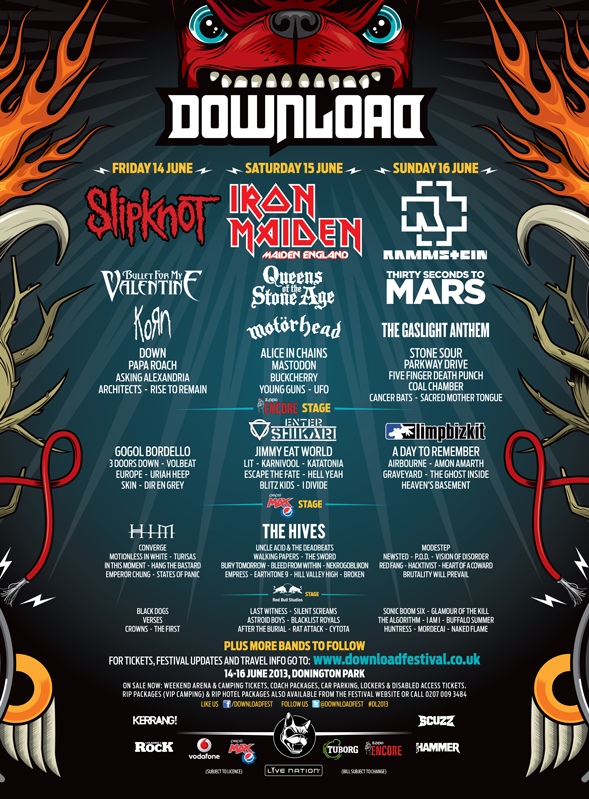 Architects
After The Burial
The Algorithm
Asteroid Boys
Blacklist Royals
Blitz Kids
Bleed From Within
Broken
Brutality Will Prevail
Buckcherry
Bury Tomorrow
Crowns
Cyota
Dir En Grey
Escape The Fate
Emperor Chung
Empress
Europe
The First
The Ghost Inside
Glamour Of The Kill
Gogol Bordello
Graveyard
Hang The Bastard
Heart Of A Coward
Hill Valley High
I Divide
Karnivool
Katatonia
Lit
Modestep
Mordecai
Naked Flame
Nekrogoblickon
Newsted
Papa Roach
P.O.D.
Rat Attack
Red Fang
Rise To Remain
Sacred Mother Tongue
Skin
Silent Screams
Sonic Boom Six
States Of Panic
Turisas
Uncle Acid And The Dead Beats
Uriah Heap
Verses
This year's Download Festival will take place on June 14th – 16th at Donington Park, Derbyshire. You can find further information regarding the event on the official website (here).
Founder & Editor for DEAD PRESS!