Scottish rock trio Biffy Clyro have just revealed the artwork for their upcoming sixth studio release, 'Opposites'. Utilising social media, the band revealed the artwork for the double-album in pieces as avid fans tweeted and re-tweeted to complete the image. In an imaginative turn, the social media interaction 'grew' the tree based artwork out of the ground to finish the sleeve artwork. You can view the artwork and tracklisting below: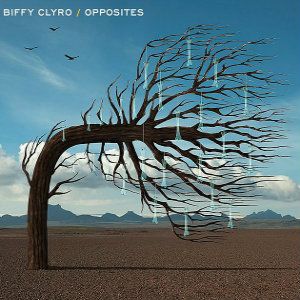 Disc One – The Sand At The Core Of Our Bones:
01.) Stingin' Belle
02.) Sounds Like Balloons
03.) Biblical
04.) The Joke's On Us
05.) Black Chandelier
06.) A Girl And His Cat
07.) Opposite
08.) The Fog
09.) Little Hospitals
10.) The Thaw
Disc Two – The Land At The End Of Our Toes:
01.) Different People
02.) Modern Magic Formula
03.) Spanish Radio
04.) Victory Over The Sun
05.) Pocket
06.) Trumpet Or Tap
07.) Skylight
08.) Accident Without Emergency
09.) Woo Woo
10.) Picture A Knife Fight
New album 'Opposites' is due to be released on the 28th January 2013.