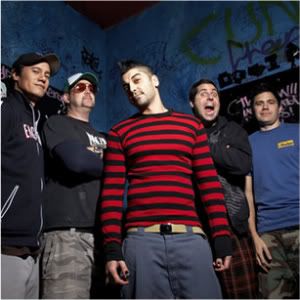 Date: December 5th, 2011
Venue: Club Academy, Manchester
Support: Paige, Army Of Freshmen
Website: www.zebrahead.com
Facebook: www.facebook.com/zebrahead
Twitter: www.twitter.com/zebrahead
Rating:

Starting up proceedings tonight are London based pop-punk outfit Paige (***), who replace Attack! Attack!'s original slot on this tour. This band are here to warm up the crowd and that's exactly what they do, getting them to clap and wave through songs such as 'For Better For Worse' and 'This Is How We Roll!'. While throughout the set the harmonies between bassist Lewis White and guitarist Arthur Walwin are great, Walwin's stronger vocals seem a little clumsy at times which harms the performance. That said, on set closer and crowd favourite 'Young Summer', all vocals are perfect, which demonstrates that this band really have a lot of talent and are definitely one to keep an eye on in the future.
Seeming to be permanently on tour, Army Of Freshmen (***) bounce around the stage like Zebedee on Prozac. Although there are a few sounds issues to begin with, these are quickly resolved and they plough through their set. Having supported so many bands over the years, they've developed a strong knack for warming up a crowd, but tonight seems like an unfortunate off-night for these guys. They do all the right things, but the crowd just doesn't respond. However, they end on their catchiest song, 'Get 'Em Up', which earns them some brownie points and gets everyone moving for a bit.
Sweet mother of God, Zebrahead (*****), you NEVER fail to put on a good show and just blow my mind. Dressing up the stage like a Hawaiian luau is a nice touch considering the shitty weather outside. From the first note played the crowd go insane; there are crowd surfers, circle pits and y'know, just general chaos. They play a good chunk of their latest album 'Get Nice!' which gets a decent response, but it's when they play tracks off the likes of 'MFZB' and 'Phoenix' that get a proper reaction.
They play a mammoth 22 song playlist right up the curfew, which is good value for money I think. Bringing out the classic show hi-jinks like the minges during 'Playmate Of The Year' and not to mention an immense medley of all their girly pop cover songs ('Girlfriend' / 'Oops! I Did It Again' / 'Wannabe'). All in all, it's a pretty amazing night, with an amazing band creating an unforgettable show. Fingers crossed they will be back over here again soon.
Written by Andy Roberts (except Paige, written by Jonathon Barlow)