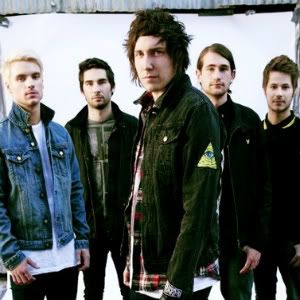 Date: October 14th, 2011
Venue: The Winter Gardens, Margate
Support: Lower Than Atlantis, Deaf Havana
Website: www.youmeatsix.co.uk
MySpace: www.myspace.com/youmeatsix
Rating:


"Oh, I do like to be beside the seaside. Oh, I do like to be beside the sea"; not a sentiment shared by many on a bitterly cold night on the northern tip of Kent outside a large bingo hall, waiting to see the penultimate show of You Me At Six's latest UK tour. Thankfully the atmosphere and conditions inside the venue are much warmer, and the venue gears up for a showcase of the British scene right now.
Ahoy there, all aboard Lower Than Atlantis' (****) perky post-hardcore stylings, whom despite an underwhelming crowd reaction still manage to pull off an outstanding performance and even convert a few new fans in the process. Not only do they have huge songs with massive choruses like '(Motor)Way Of Life' and 'High At Five' in their arsenal, but they also have a new found likability factor that seems to appeal to a mass audience. However, older songs like 'Taping Songs Off The Radio' make sure their older fans are satisfied too.
Sadly, Deaf Havana (**) don't manage to live up to the benchmark set by LTA. Despite having parted with their unclean vocalist Ryan Mellor over a year ago it still feels like there is something missing from their set. Though their best efforts are clearly in play through songs like 'Friends Like These', they just don't seem have the same kick they used to, and perhaps it's time that they accepted that. Their cheeky cover of the Eastenders theme song does nothing to win them their losing battle.
To make one thing clear, I did not expect much at all from You Me At Six (****) tonight. From a personal perspective, their newest album 'Sinners Never Sleep' was their weakest to date and not anywhere near worthy of the hype it was getting. However, it wasn't too long into their set that it became apparent that the hype surrounding the band was justified. Josh Franceschi has the crowd eating out of the palm of his hand, and it's a credit to him and his band that they can effortlessly switch between older songs like 'Save It For The Bedroom' and newer cuts such as 'Jaws On The Floor'.
All the way through to climactic set closer 'Underdog', it is a well polished, hugely energetic and very enjoyable set. I think that based on this showing of the raw power that the band possesses, it shalln't be long before they turn into one of the biggest modern British rock bands of our time. Excellent.
Written by Oliver Thompson