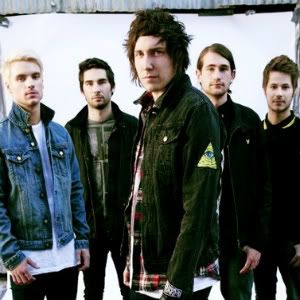 Date: September 10th, 2009
Venue: The Roadhouse, Manchester
Support: Not Advised, Me Vs. Hero
Website: None available
MySpace: www.myspace.com/youmeatsix
Rating:

It wasn't too long ago when You Me At Six were only just able to fill up small clubs like The Roadhouse, but nowadays things have blown to the scale of the 5-piece filling out much larger venues with ease. This small intimate shows tour sees the band selling out the venue is just 3 minutes! This is a sign for one hell of a messy night, and one just for the fans.
Openers Not Advised (***) don't really kick off things to a great start, getting very small energy reactions from the crowd before them despite their constant shout outs for a bit of jumping here and there. Regardless, they manage to set the right tone with their melodic and inviting pop-punk prowess to an audience clearly conserving energy for the headline act. Their cover of Michael Jackson's 'Man In The Mirror' sees the best reaction of their set though, with the lyrics being sung by almost everyone in the room.
Me Vs. Hero (****) manage to step things up a little bit more, with their rawer and rougher sound citing many surges and pushes across the venue floor. 'Days That Shape Our Lives' along with others bring the goods and sets things ablaze from one side of the room to the other, maybe showing promise in this young band in the very near future. Offerings of free t-shirts thrown out during their set only brings more fun and excitement to the band's set, and sees the kids almost literally fighting one another to bag one for themselves.
And though the previous band managed to achieve a level of energy in the crowd which isn't easy to gather, headliners You Me At Six (*****) manage to top it with very little effort. Reeling off well-known singles 'If I Were In Your Shoes', 'Kiss And Tell' and 'Finders Keepers' shows just why You Me At Six have gotten so far in such a short space of time. Despite their small stage room, the boys manage to put their all as much as they would on a stage more than triple its size. Their cover of 'Poker Face' manages to bring even those unfamiliar with their work into the fun of it all, with the crowd often overpowering vocalist Josh Francheschi despite the lack of speakers and microphones. The band's usual set closer 'The Rumour' sees the best reaction of the night without contest, the ending chant "So hold your hands in – into the air / Hold your hands as – as if you care" is sung by pretty much everyone in the club whilst Josh screams along, ending the night with firm evidence that things for You Me At Six can only look brighter if they keep this up.
Written by Zach Redrup
Founder & Editor for DEAD PRESS!