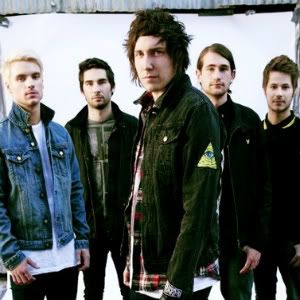 Date: March 28th, 2012
Venue: O2 Apollo, Manchester
Support: The Skints / Mayday Parade / Kids In Glass Houses
Website: www.youmeatsix.co.uk
Facebook: www.facebook.com/youmeatsix
Twitter: www.twitter.com/youmeatsix
Rating:

It's crazy to think just how big the band You Me At Six are today in comparison with their young age, with vocalist Josh Francheschi being just a mere 21 years old. Breaking onto the scene with their debut album just five years ago, the band have made astonishing achievements, one of which most recently being the release of the first ever single for a rollercoaster ride, 'The Swarm'. The crowd drawn into the first of two dates at Manchester's O2 Apollo is just another testament to the band's growing popularity.
Reggae/ska punkers The Skints (***) realistically aren't the best fitted band to the generally younger aged crowd that the evening's headliners have drawn in. However, the crowd surprisingly warm up to them really well, especially during their more mellow and less electronically driven take of Katy B's popular single, 'Katy On A Mission'.
However, it's when Mayday Parade (**) take the stage that the first and weakest barrage of teenage girlish screams bellow throughout the venue. Those unfamiliar with these pop-rock Americans would be best eased in by being told they're much like Taking Back Sunday but without any of their uncommon edge. It's this missing edge tonight that sadly results in an almost lacklustre set, though undoubtedly these guys will have pulled in a few new fans eager to check out more.
Kids In Glass Houses (****) kick it up a notch, and again they're greeted (or attacked, depending on your point of view on it) by thousands of screams the moment they walk onstage. With the amount of people singing along almost word for word to the likes of 'Saturday', 'Matters At All' and 'Animals', you'd be forgiven for thinking these guys were headlining the show. The Cardiff outfit set a high bar to match, and Aled Phillips' microphone stand that turns into a light sabre-like torch is worth a mention too.
Though their efforts were indeed great and commendable, You Me At Six (*****) still manage to up the ante further. As if just their faces didn't send the roars and screams into deafening realms enough, the huge gas cannons used through the band's set send the crowd absolutely wild. And rightly so too, the guys are pulling out all of the hits flawlessly and keeping their fans wanting more and more.
Despite recently falling ill – and still recovering – from a case of tonsillitis, for the most part Josh Francheschi manages to keep his vocals strong and powerful from start-to-finish. It's this and the whole band's delivery through songs picked throughout their three album back catalogue, such as 'Trophy Eyes', 'Stay With Me' and 'Take Off Your Colours' that encapsulates exactly why this band at such a young age are at such a great place in their careers, and new single 'The Swarm' sounds pretty huge too. Set closer 'Bite My Tongue' closes things off nicely, with a rare moment of guttural roars from Josh which admittedly could've expected to be much worse. All in all, You Me At Six aren't going anywhere but up anytime soon.
Written by Zach Redrup