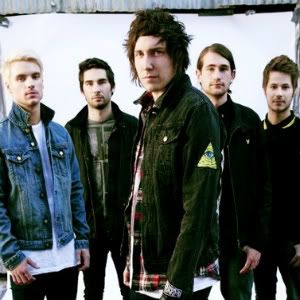 Date: October 6th, 2011
Venue: HMV – Buchanan Street, Glasgow
Support: N/A
Website: www.youmeatsix.co.uk
MySpace: www.myspace.com/youmeatsix
Rating:


There have been fans eagerly queueing since 4:00AM for this special instore gig and album signing to promote new album, 'Sinners Never Sleep', the third and already most successful album from these five young men from Surrey. The album as we speak sits atop the UK album chart, and signifies a remarkable shift in the band's style and maturity. Not many bands hitting this success would offer the opportunity for their fans to see them free of charge and meet the band, but then again You Me At Six aren't your ordinary band. At the age of 21-22, they have been crowned the Best British Band by Kerrang! and played to over 65,000 people across two UK tours.
Approximately 5:00PM, and 300 of the fans who have been at the forefront of the queue get carefully ushered into the store and in front of a tiny stage, usually built to hold stock, or very occasionally, house small acoustic sets. Fifteen minutes later, You Me At Six take to the makeshift stage, to a blast of screaming comparable to that of which The Beatles used to receive, and they refuse to disappoint their loyal fans. Blasting into new single 'Loverboy' and pushing this tiny venue to its limits as the crowd get crazy, this is a much improved band from the past live performances; much more mature, much more aggressive, much more honed ability. And boy does this crowd appreciate it, singing along rapturously, and making both the security and the flooring of this venue work hard to ensure safety. But none of these guys are worried, as You Me At Six are back, and in an explosive manner.
The Surrey boys play through a couple songs from the new album – 'Little Death' and 'Jaws On The Floor' – which are met with welcome arms and vocals aplenty from the crowd. However, these songs sandwich an old favourite from second album 'Hold Me Down', – 'Liquid Confidence'. This is a less aggressive, punchy side of the band which stole the hearts of girls worldwide. Frontman Josh Franceschi thanks the fans for making it out and announces that the band will return to Glasgow in March to play the SECC; the largest indoor venue in Glasgow, before bursting into 'Stay With Me', another track from the second album which emphasises the band's versatility in this raucous set, reducing some of the crowd to tears with this emotional display, before smashing into breakthrough track 'Underdog', without a doubt the fans' favourite. Josh flips round the microphone half way and gets everyone in the crowd to scream 'Underdog' at the top of their voice. This crowd, who really should be exhausted by now, are still full of life and more than happy to oblige, and the gratitude is more than visible on the vocalist's face.
After a rousing set like that and a long wait for so many fans, it's hard to believe anyone had any voice left, however, fans were shown upstairs to meet the band shortly after and get copies of the new album signed. The band thanked their fans personally for coming, and sat looking at photos, tattoos, etc. that the fans were willing to show them. The strict venue put a few restrictions on this show, however, You Me At Six made this an event not to be forgotten quickly for everyone involved.
Written by Gary Cassidy
Founder & Editor for DEAD PRESS!