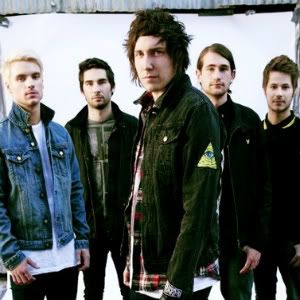 Date: July 4th, 2008
Venue: Club Academy, Manchester
Support: Attack! Attack!, Tonight Is Goodbye
Website: None available
MySpace: www.myspace.com/youmeatsix
Rating:

Not many bands are at a stage where they can hold a headlining tour across the UK, sell most of the shows, and all without releasing a full-length album. You Me At Six however can pull such a feat, and have brought along the bands Attack! Attack! and Tonight Is Goodbye to share the experience.
First up to the table is Attack! Attack! (***), who are probably the least known act tonight and are giving it all to win over the crowd. There's areas of crowd presence and confidence they're gonna need to work on if they want to get to a similar position as the headliners of the night, but they don't do a bad job. They even offer free CDs at the back of the room to help gather some new fans through the show. They shouldn't worry too much though, if anyone new to the band paid a little bit of attention to their performance then there's no doubt they'll have gained some more fans.
Next support act Tonight Is Goodbye (***) are slightly more experienced with their showmanship, and it's evident tonight. Frontman Ant West is pacing the stage and singing to the crowd like they were having a conversation with them, getting them involved with their show. Songs like 'Black Dress' are going down a treat with their closer fans, but it seems like Attack! Attack! this band need a bit more coverage to receive a larger reaction at shows, but there's always time for that with any band, and shows like these are going to help them get there.
With the support acts aside, the headliners of the show You Me At Six (****) take to the stage, and are welcomed with screams and applause from their dedicated and quickly acquired fanbase (which at tonight's show seems to consist mainly of teenage girls). Frontman Josh Francheschi shares with the audience that he woke up a little under the weather, but still fights strong and helps to deliver a satisfying performance. Upcoming single 'Gossip' is sung around the room like it was number 1 in the UK charts, with a similar vain for 'If I Were In Your Shoes', and 'Save It For The Bedroom'. It's like a drunken party where everyone is singing lyrics to songs that everyone knows, the crowd, vocalist Josh Francheschi, bassist Matt Barnes, even a member of the venue bar staff is getting involved between serving drinks. Set closer 'The Rumour' gets everyone pumped up for their last moment of the night to enjoy themselves, and everyone ensures that they do in the songs closing moments, chanting "Hold your hands into the air. Hold your hands as if you care." over and over again, letting everyone get involved in the action.
Under their belt they've currently only got two singles, one up for release soon, and no full-length album yet. If You Me At Six can turn in a crowd this size and as dedicated as they were, then they should have some good things ahead of them in the near future.
Written by Zach Redrup