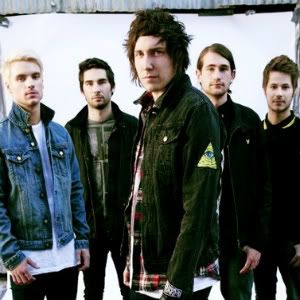 Date: October 23rd, 2008
Venue: Academy 2, Manchester
Support: Farewell, Houston Calls
Rating: 7/10
Website: None available
MySpace: www.myspace.com/youmeatsix
It's strange how much can happen in the space of a year, especially within the music industry. With the likes of Guns N' Roses and Nirvana, it was almost overnight where they shifted from a band not many people knew, to becoming bands that dominated the world. You Me At Six are nowhere near such feats, but they've made pretty big accomplishments considering their young age. This time last year they had one single, and were playing shows where they could, no matter how small and secluded the venue. Now, they have a few singles and a full-length album under their belt, and have recently supported Fall Out Boy on a recent UK tour, and are currently on one of their now many UK headlining tours, selling out their show tonight at Manchester Academy 2.
Along for the ride they've brought similar pop-punk bands to fit the bill, and Farewell (****) aren't ones to disappoint either, even forcing the audience to make a small circle pit at one point. They constantly chat, banter, and interact with the crowd to get them involved with the fun and catchy music they make. Their set of material is densely filled with chorus hooks and memorable vocal lines that the crowd easily and happily sing back to, pulling out songs like 'Hey Heather', 'Zelda', and 'First One On The Blog' to keep them warmed up and excited for the two acts to follow after them. It helps that the band are as energetic and pumped as they want their spectators to be, and their charismatic nature combined with such onstage enthusiasm has no doubt secured them a few new fans.
Keeping the support bands American, Houston Calls (***) are the next band to show what they've got for this mainly teenage crowd. Having only recently released their latest full-length album, they have the slight disadvantage that not much of their newer material is engrained into the memory bank of their fans to help them sing-a-long and support them with, and this seems to show in the audience reaction to their show, with frontman Tom 'Chitty' Keiger asking every now and then "Are you guys gonna jump around and have some fun with us?". Regardless of the crowd's unwilling behavior, Houston Calls put in the effort and passion, with guitarist Jose Lopez and keyboardist 'Okie' Okamoto clearly giving it their all.
With the crowd warmed-up nicely, it's high time that You Me At Six (***) took to the stage and shown their guns. Immediately the reaction to their appearance is intense, coming to the stage with a dramatic audio entrance of the famous piece 'O Fortuna' by Carl Orff (it's used in the beginning of Jackass: The Movie along with many other things). The wave of screams and applause is then fought back by the speakers blasting, with the band playing through songs from their recent full-length debut, such as 'If You Run' and 'Save It For The Bedroom', without failing to have most every word sung back to the band. Though their efforts are impressive to most band standards, it just seems that tonight the band are a little off from their usual standards, and perhaps holding back a bit than normal. Nevertheless, each song is performed with minimal flaws, and enough to create a circle pit taking up more than half of the venue floor during 'If I Were In Your Shoes'. Set closer 'The Rumour' to end the night goes down a treat, with most people singing back "Hold your hands into the air. Hold your hands as if you care" whether they're into the band or not, or if they've not even heard the song before.
You Me At Six have gone a long way in such a short space of time, so who knows where they'll be this time next year. They may have to step up their game a little bit if they wish to progress as greatly in such a short space of time as they have done so far.
Written by Zach Redrup