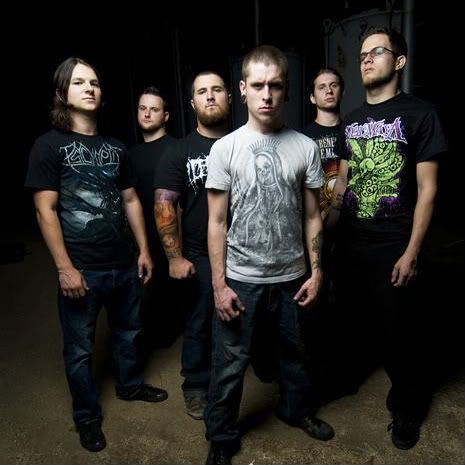 Date: April 12th, 2011
Venue: O2 Academy Islington, London
Support: Impending Doom, The Acacia Strain
Website: www.thediseased.com
MySpace: www.myspace.com/whitechapel
Rating:


Speaking to Phil Bozeman beforehand, he is the epitome of calm. Despite the fact he's about to play the largest show on his band's first ever UK headlining tour, he seems unfazed and his usual confident self. Why shouldn't be? This sort of show is standard back home in America, and he states that London has always been good to him and his band mates, so why should tonight be any different? The answer is that it isn't. As they take to the stage, they are greeted with a hero's welcome, and seconds later they set about destroying anything and everything that lies in front of them.
Before this can begin, Impending Doom (***) cause a nice little mess of their own. Their approach may be one dimensional, but that one dimension is more than good enough to get everybody moving. Despite only being the four of them, they make enough noise to account for six or seven. With all their songs being about five or six minutes long, they only rattle off a few before they depart, however it seems more than enough to win over many a new fan.
Before a note has even been played, The Acacia Strain (***) frontman, Vince Bennett declares that he is "fucking sick of people". From this moment on everyone in attendance knows that they are in for something hard hitting and in your face, and without a shadow of a doubt they deliver. Songs like 'Beast' and 'Carbomb' explode in a wave of bass and lead heavy riffs. Whilst their songs seem to follow the same pattern throughout, there's no doubting the sheer power that they pack.
Compared to Whitechapel (*****), everything that came before is only the calm before the storm. From the moment they hit the stage into the crushing 'Breeding Violence', they unleash a tidal wave of fury and filth upon a crowd who lap it up. Each demented, twisted offering is as brutal as the next and their force is unquestionable. Songs like 'Possession' and 'Reprogrammed To Hate' pack relentless energy and send the crowd into an absolute shit storm. Fan favourite 'This Is Exile' proves to be a killer moment in the band's set, as it ignites a wall of death the width of the venue. Despite this being the largest date of the tour, the venue itself is still small so you can only imagine what carnage this causes within these confines.
Despite the unrelenting brutality, Whitechapel are not all about sheer power, they pack technical ability in abundance. Bozeman's vocals are spot on all night, drummer Ben Harclerode doesn't miss a beat all night, and the trio of guitars work tirelessly to provide the spot on execution of songs like 'Vicer Exciser'. Sometimes though it is all about sheer power, as set closer 'Prostatic Fluid Asphyxiation' sets out to prove. After this performance, it's clear that Whitechapel need to add a second UK headlining tour to their calendar, and soon.
Written by Oliver Thompson