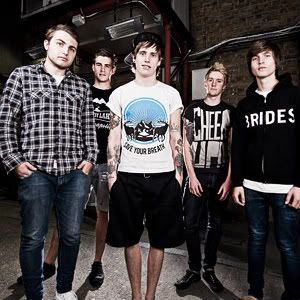 Date: April 28th, 2011
Venue: Academy 2, Manchester
Support: Don Broco, Lower Than Atlantis, Veara
Website: www.wearetheocean.co.uk
MySpace: www.myspace.com/wearetheocean
Rating:


We Are The Ocean are, to many of today's generation, one of England's finest slightly new acts. Hailing from Essex, the quintet sounds a lot like Rise Against and Alexisonfire. Having just released their second full-length album, 'Go Now And Live', the aim of the tour is to promote the release. Not that much promotion is needed, for it's already flying off the shelves. Having fine tuned their sound, this is a more mature WATO, but they still have one hell of a stage presence.
With a large crowd already formed, all eagerly awaiting for the first support, Don Broco (*****) are off to a great start. The whole crowd screams as vocalist Rob Damiani struts onstage with a beaming smile on his face. Don Broco could not be a better support act, and should have in fact been placed higher up on the bill. Their set is just wall to wall carnage, with huge circle pits during 'Dreamboy' and hardcore dancing aplenty for 'Thug Workout'. But, they bring out their signature piece, by making the crowd buddy up, get on each other shoulders and start chicken fights in the pit. Truly epic.
Up next are Lower Than Atlantis (****), who draw in a surprisingly large crowd. They have a slightly awkward start with a few technical issues, and it seems that they are just thrashing out their songs to get them over and done with quickly. However, a few songs into their set and they find their sound and the crowd really gets going. 'Deadliest Catch' (which sounds a bit like a more metal version of Avril Lavigne's 'Sk8er Boi') causes sheer mayhem when front man Mike Duce commands a sea of crowd surfers. LTA give a solid performance, and certainly warmed up the crowd.
Pop-punk four piece Veara (**) are a poor choice of support. Their happy-go-lucky melodies would go great at a Less Than Jake gig, just not at more and visceral line-up like this. Despite being a talented band, with some great songs and they gave a great performance, they were just not in keeping with the feel of the evening. If anything, they should have gone on first. There's a few chunky breakdowns here and there, but without the growls and screams to back it up it creates a weak and feeble sound. They do manage to get the crowd clap and cheer along here and there, but they certainly brought the already set pace of the evening down a notch or two.
But, the crowd isn't here for the support, quite frankly, they would have sat through Joe Pasquale reading aloud from a German dictionary as long as they got to see We Are The Ocean (*****). The crowd is huge and as soon as the lights go down, oh my god, the screams, they were almost unbearably loud. With minimal effort, WATO have already managed to whip the crowd into a frenzy with just a few chords of opener 'What It Feels Like'. With the strobe lights in the background, it makes the whole thing feel like some kind of dream, and for all the fans, it must be. WATO certainly know what the crowd wants, creating an ocean of arms swaying like waves to 'Trials And Tribulations' and inducing sheer carnage during 'Don't Be Careless'.
They encore however, was something wonderful. With a single light shining upon melodic vocalist and guitarist Liam Cromby, where he strums out the final piece that is 'Confessions'. To which, of course, the crowd burst into the song, screaming every last word at the top of their lungs. WATO gave an outstanding performance, and from here it seems things can only go up for them.
Written by Andy Roberts
Founder & Editor for DEAD PRESS!