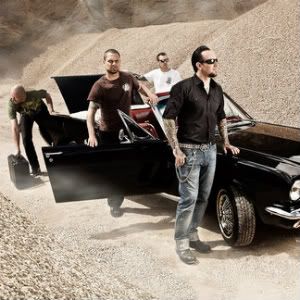 Date: October 28th, 2011
Venue: Academy 2, Manchester
Support: Black Spiders
Website: www.volbeat.dk
MySpace: www.myspace.com/volbeat
Rating:


Heavy metal, hard rock, rockabilly, groove metal, blues rock, Elvis metal; call it what you want, Volbeat are kings in their field. They are gracing the UK shores again, this time for their very first UK tour (having only done festivals up until now). Having had to cancel their last tour due to illness, their fan base (myself included) have been waiting for nearly a year to see them again, so they had better step things up. As I as gazed around the crowd, there were all sorts; a 5-year-old with huge ear-protection headphones on his head, numerous old couples (like 65+ old) and all sorts of nationalities that have travelled from far and wide just to see Volbeat. This is what perfect metal gigs are all about.
The only support of the night, Black Spiders (****), are met with catastrophic bad luck, launching into fan-favourite 'Stay Down' only to discover that there were no vocals at all. Still, the crowd know the words and shout back "Fuck you and this one horse town" in the appropriate places. After an awkward 10 minutes of fixing the PA, they emerge back onstage with only 20 minutes of their set left. As soon as they start playing, you forget all about the PA screw up, in fact, it's almost like they were never gone. Sounding like a younger, more energetic and generally better version of Motorhead, they are the perfect support. Ending on 'Blood Of The Kings', you can tell that they have recruited countless new fans tonight, as well as thoroughly entreating their current fans.
Not having to wait more than half an hour, the living legends that are Volbeat (*****) stride on stage, with Michael Poulsen's gelled back hair and coy grin radiating outwards. Sweet Moses, these guys were so God damn good! Playing a massive 18 song set, there's not a dull moment throughout the night. Entertainers through and through, they even play snippets of Black Sabbath, Dio, Metallica, Motorhead, Queen and AC/DC. They even perform their lesser known cover of Misfit's 'Angelfuck' as well as their epic cover of Dusty Springfield's 'I Only Wanna Be With You' (which Michael dedicated to his wife).
Each and every song is met with bouncing, plenty of movement in the pit and everyone screaming the words as much as their lungs would let them. Their set was genuinely perfect (and that is not a term I use lightly when describing live shows), having been permanently on tour since early March, Volbeat are in full form and know how to tailor a show to perfection. I can safely say, while looking around and seeing a huge smile on everyone's face, that Volbeat are probably the one of best bands that most people have seen live. For a debut UK tour, Volbeat have set the bar pretty damn high for when they return, which will hopefully be sooner rather than later.
Written by Andy Roberts