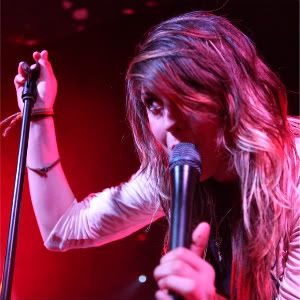 Date: April 15th, 2009
Venue: Academy 3, Manchester
Support: N/A
Website: www.weareversaemerge.com
MySpace: www.myspace.com/versaemerge
Rating:

To close things off, final act – and quite possibly the youngest of the four too – is alternative rock 5-piece VersaEmerge.
The ambience and progression side with their arguably theatric and cinematic samples and keyboard input blend with Sierra Kusterbeck's vocals a treat. The band's active stage movements here, there, and everywhere is one to keep your attention during a set consisting of 'Past Praying For' and 'Whisperer'. Sierra's swagger and fun attention to the front, offering out high-fives and other friendly gestures to the fans, and at one point even poking the camera lens of a show photographer. Though this band are fairly unknown over to this side of the seas, VersaEmerge are the ones who would gain the award for most lyrics sung back to them. The explosion for their set closer 'Clocks' is enough to cement this, and maybe even give them the position of most favoured band for this gig on the tour listing.
Crowd and fan reaction has easily shown promise that VersaEmerge are wanted in the UK, and that another visit to the UK is very likely to be on the cards sooner rather than later.
Written by Zach Redrup
Photo taken by Andy Squire – 2009 © www.andysquire.net