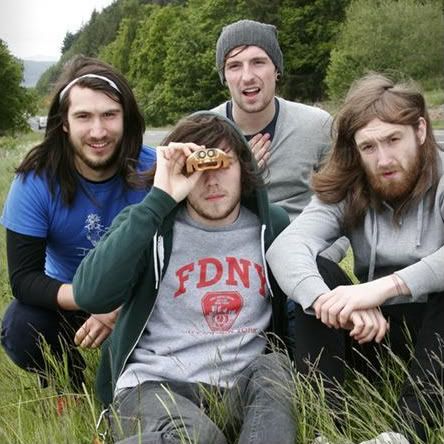 Date: April 16th, 2012
Venue: HMV Ritz, Manchester
Support: ME / Lower Than Atlantis
Website: www.twinatlantic.com
Facebook: www.facebook.com/twinatlantic
Twitter: www.twitter.com/twinatlantic
Rating:

Scottish rock outfit Twin Atlantic seem to steadily ascending popularity to stand side-by-side by their local counterparts Biffy Clyro following the success brought to them off the back of their latest full-length, 'Free'. Slowly but surely conquering both sides of the atlantic in equal measure (see what I did there?), their set at HMV Ritz in Manchester may be their last one their before their mission of global success engages.
Aussie openers ME (***) are dressed much alike emo powerpop boys Panic! At The Disco, yet musically they're very much apart. There's an almost theatrical presence to them, an almost drive of 'epic' throughout. What's most notable and impressive about them however is Luke Ferris' vocal range and its almost effortless deliver, standing as contender for the closest similarity to Freddie Mercury's aside Muse frontman Matt Bellamy.
Lower Than Atlantis (***) have really come a long way since playing small underground clubs back in their far more hardcore days just a few short years ago. Now, two albums and a major record label signing down in their career, they've clearly fit the boots they worked at and sewn themselves. New track 'If The World Was To End' sounds huge and 'Beech Like The Tree' and 'Deadliest Catch' bring in the singalongs. Their cheeky Foo Fighters medly of 'Everlong' and 'The Pretender' adds a nice surprise to proceedings too.
It's obvious though that everyone is here for the great Scotsmen that make up Twin Atlantic (*****). From the intro riff of set opener 'Yes, I Was Drunk', the crowd is firmly in the palm of their hands. The more upbeat and high energy numbers like 'We Want Better, Man' and 'Lightspeed' get the room bouncing the pits moving, and 'Eight Days' gets everyone singing the song's infectious chorus right back at the Glaswegian quartet.
It is, however, the band's encore that turns their set from brilliant to an absolute tour de force. Sam McTrusty's skeletonised acoustic rendition of 'You're Turning Into John Wayne' is enough to send welcomed goosebumps along all in attendence, truly shining as one of the evening's highlights. The one-two set closer of the band's huge singles 'Make A Beast Of Myself' and 'Free', ending in a rain of confetti across the venue, is a spectacular close of curtains for a set from one of Britain's greatest bands today, no word of exaggeration.
Written by Zach Redrup
Founder & Editor for DEAD PRESS!