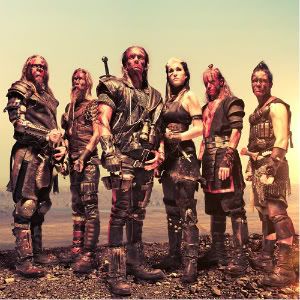 Date: November 17th, 2011
Venue: Academy 3, Manchester
Support: Kiuas, Chthonic
Website: www.turisas.com
Facebook: www.facebook.com/turisas
Twitter: www.twitter.com/turisasofficial
Rating:

Tonight, in the almighty students union of the University of Manchester there are not one, not two, but three bands playing. So, populating the huge queue outside are fans for The Naked And Famous, White Noise Box and Turisas. It's not hard to guess which fan is for which band, for between the terrified indie folk are big hairy metal men, wearing Viking helmets and furs, coated in war paint and wielding a plastic axe. You know you're in for a good night when there are half naked Viking women in the crowd.
Due to an unfortunate cock-up with the guest list, we were sadly unable to see the first band, Kiuas.
However, there's plenty of time for us to catch the most successful export of Taiwanese black metal, the one and only Chthonic (***), who emerge onstage to a forest of arms in the air. Launching into 'Forty-Nine Theurgy Chains' the crowd seem somewhat stunned. As aggressive as their music is, once lead singer Freddy brings out his ErHu (it's a Taiwanese one string violin type thing, Google it if you don't know what it is), they suddenly don a hauntingly beautiful sound. Although there's little movement from the crowd, in their own headline show they would dominate this room. Having said that, I reckon they will have recruited a good few fans tonight, if not for their outstanding sound, then at least for their insanely hot bassist Doris Yeh.
An awfully long 5 years have passed since Turisas (*****) have played in this teeny-tiny venue, but finally they are back. Before they even take the stage, the whole crowd are chanting 'Battle Metal', up until Mathias "Warlord" Nygård's sombre voice rings out as he recites the speech of 'To Holmgard And Beyond'. They march onstage to a rage-filled war cry and waste no time before opening with 'The March Of The Varangian Guard'. Turisas always put on an epic show and tonight is no exception, playing a smattering of each of their albums and whipping up a storm in the crowd.
It has to be said that I wish metal fans would wear deodorant, because that room fucking stank. Seriously guys, it's not pleasant and you know it. But, this was one tiny issue in an otherwise amazing gig. It felt so good to let out my inner Viking as I bounced up and down to likes of 'Hunting Pirates' and screaming at the top of my lungs to 'One More'. One of the things I love about Turisas is that they can write all these amazing 'Viking metal' songs without sounding gimmicky. Take 'Sahti-Waari'; it's a musical masterpiece. Sure, they have some fun and novelty songs, like their phenomenal cover of Boney M's 'Rasputin' but when they want to take things serious, by Thor do they do it well.
Written by Andy Roberts