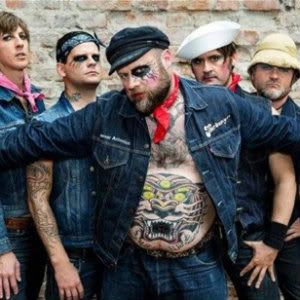 Date: November 23rd, 2012
Venue: Academy 3, Manchester
Support: N/A
Website: www.turbonegro.com
Facebook: www.facebook.com/turbonegrohq
Twitter: www.twitter.com/turbonegrohq
Rating:

With such a history, Turbonegro (****) certainly have a lot to live up to, especially with the added pressure of a relatively new singer. However, this doesn't stop them from putting on a fully camp, fully glam, death punk riot of a show.
An intro as brazenly tacky as 'Three Lions' by Baddiel And Skinner, it's instantly made aware that they're playing up to the British audience with a sense of irony especially as singer, Tony Sylvester himself, hails from Blighty. A full rendition of the song leaves the audience a bit dumbfounded, if not impatient. Soon enough, the band take to the stage and begin delivering their dark punk renditions laced with homoeroticism.
The audience are of a slightly older demographic, however, it's refreshing to see them singing along to tracks off their newer albums, such as 'We're Gonna Drop The Atom Bomb' and 'All My Friends Are Dead', which really has the crowd moving. The performance is a bit like a pantomime. There's a humour running underneath everything, even if songs are slightly more serious, which then fully emerges in between songs. The dialogue between Tony Sylvester and bassist, Thomas Seltzer, is frankly hilarious and somewhat of a Laurel and Hardy routine.
As the show goes on and more flesh is revealed, it's clear that this new dynamic within the band clearly works. They're all seasoned veterans and masters of their art, but with the injection of the new member, the Duke of Nothing, there's a new lease of life and a new vitality about the band, which is without doubt a 'make or break' factor.
Tony fits the role flawlessly, parading whilst adding a rougher, thrashier element to the vocals. His showmanship is exceptional and very exact without looking too rehearsed. He also brandishes the denim jacket and over-the-top make up effortlessly.
There's a real sense of communion when watching Turbonegro which is embodied by their loyal fanbase: the Turbojugend. After many-a-song, both old and new and a slightly arrogant two encores, you're left with the sense that you've just been a part of musical history.
Having been established for such a long time and being pillars in the underground punk community, I was grateful to have witnessed their live show. By no means are they pushing any boundaries, but the light-hearted nature makes it forgivable in a 'let's just let our hair down and be really gay and really punk for one night' way.
Written by Jack Bastard