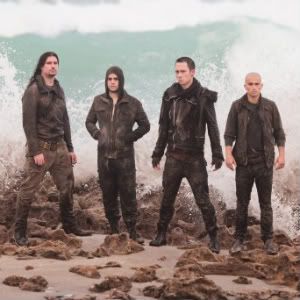 Date: October 19th, 2012
Venue: O2 Academy, Bristol
Support: Upon A Burning Body / Caliban / As I Lay Dying
Website: www.trivium.org
Facebook: www.facebook.com/triviumofficial
Twitter: www.twitter.com/triviumofficial
Rating:


Despite the early doors (because SO many people go to Ramshackle at 10pm, right?), there's a healthy crowd for Texas' Upon A Burning Body (****). Looking both smart and foreboding in their mafia-esque stage attire, they immediately command a presence, demanding pits and hand waving aplenty. The specifics of the guitar work is lost in the mix a little and the breakdowns seem to be happening every 5 seconds, but it's exactly what's needed. There's a hearty singalong to 'Intermission' and 'Texas Blood Money'. If they haven't gained at least a few fans from this performance, then they should just give up and go home.
Germany's Caliban (****) are a tricky band. On the face of things, they sound a lot like As I Lay Dying, but there's an obvious Rammstein influence throughout. One thing that comes off really good live is Denis Schmidt's clean vocals. He's not the most attractive of fellows, but he sure as hell can sing his little heart out. Songs from their latest album 'I Am Nemesis' like 'We Are The Many' and 'Davy Jones' are certainley heavier live than on record.
As I Lay Dying (****) have a well oiled setlist that they've championed over the past 10 years, but that doesn't mean they can't seamlessly slip in some new numbers too. It seems that last month's 'Awakened' has more breakdowns than their earlier efforts, but they don't really disrupt the flow of the enjoyable metalcore on show. 'Cauterize' and 'A Greater Foundation' will surely get a good stay on the live scene for a few years yet. Vocalist Tim Lambessis is absurdly in shape for a chap who tours all the time and has perfected the curious art of headbanging whilst still managing to hurl out devastating growls.
Trivium (***) are generally a pretty Marmite band. If you didn't like them before, you aren't gonna like them after this performance, but if you loved them then this was probably one of the better bands you've seen live. The O2 Academy is packed to the rafters with cluelessly unhygienic metalheads young and old to show that their appeal doesn't have a specific age group or smell. Seriously, some of these people have never bathed. It's apt that as the set starts with 'In Waves', the sea of fans immediately squashes and parts into mayhem.
Trivium now have a vast catalog of songs to choose from and they decide to visit all generations, including 2003's 'Ember To Inferno', which has not aged badly at all. Frontman Matt Heafy informs us that a video is being shot for 'Watch The World Burn' and so we are forbidden to stand still. He has a good way of getting people to move as well, stating "if you don't leave here with a strained neck and a sore voice, you shouldn't be here". It takes 14 songs until 'Pull Harder On The Stringsd Of Your Martyr' is played and still it is followed by two more afterwards. Impressive, even if it's impossible to hear the correct lyrics thanks to that damn YouTube parody video.
Written by MG Savage
Founder & Editor for DEAD PRESS!