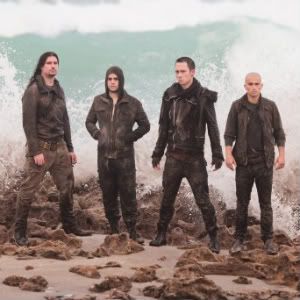 Date: October 15th, 2012
Venue: HMV Ritz, Manchester
Support: Upon A Burning Body / Caliban / As I Lay Dying
Website: www.trivium.org
Facebook: www.facebook.com/triviumofficial
Twitter: www.twitter.com/triviumofficial
Rating:


Ever since their first major appearance on British shores at Download Festival back in 2005, Trivium have been received praise and accolades of triumph in their UK fanbase. Catapulting them into a world stage, the band now have a total of five albums under their belts seven years later. Before heading into the studio to begin work on album number six, the band have returned to our land for one final headline run.
Pits begin to ensue early for openers Upon A Burning Body (***), who walk on stage in some rather formal attire. Everything about this band is heavy, heavy, heavy and they do well to interact despite the limited room on stage. Frontman Danny jumps into the faces of the front row towards the climax of their set, not a support band to forget.
Germany's Caliban (****) create a danger for anyone who suffers from epilepsy with their light show. With matching outfits of either blood on white shirts or white gunk on black shirts, the shrieks of Andy Dörner during the likes of 'We Are The Many' are sharp and powerful. The rest of the band need to also be commended, from the brutish drums of Patrick Grün do the melodic cleans of axe-man Denis Schmidt.
For some of the crowd, main support As I Lay Dying (***) are a bigger attraction to the line-up than the evening's headliners. Frontman Tim Labesis is built like an absolute brick shithouse and he's got the pipes to match. There are very few people who can bang their head as violently as this man whilst still maintaining furious screams. 'Cauterize' and fan favourite closer 'The Sound Of Truth' sees some of the nights most menacing pits and though AILD may not have broke through to the extent as many of their counterparts of the same generation, it's the end live show that counts.
It's headliners Trivium (*****) however that rightfully steal the show. Packing their with a total of 16 different songs spread across all five of their studio albums, this tour really is for the fans. From the very first bellows of set opener 'In Waves', the American metal tour de force have the crowd in the palms of their hands. With only one inclusion from their polarising record 'The Crusade', it seems that the band have too come to terms that maybe the change in sound on that record may not have been a great choice, but at least they did it.
Thankfully, the guys stick strongly to 'Ascendency', 'In Waves' and 'Shogun', with a cheeky insert of 'From Ember To Inferno''s title-track. It's surprising there's even a floor left at HMV Ritz following the relentless pogoing throughout 'A Gunshot To The Head Of Trepadation' and 'Into The Mouth Of Hell We March'. The whole room singing along to every word of 'Dying In My Arms' is nothing short of spectacular too. What is the most amazing factor however is the sheer magnitude of instrumentation mastery from each member of the band. All the way through to the final shrieks of set closer 'Throes Of Perdition', it's clear that Trivium's home away from home is the UK and they seem more than happy about that.
Written by Zach Redrup