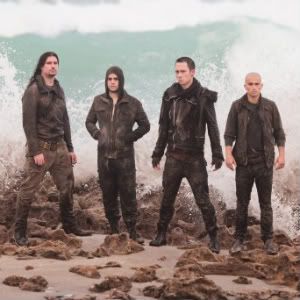 Date: December 3rd, 2011
Venue: Academy 1, Manchester
Support: Insense, Rise To Remain, Ghost, In Flames
Website: www.trivium.org
Facebook: www.facebook.com/triviumofficial
Twitter: www.twitter.com/triviumofficial
Rating:


That's right folks, it's time again for the Defenders Of The Faith Tour to tear through the UK and leave a trail of destruction behind them. Having hosted some of the biggest names in today's metal scene (like Machine Head and Lamb Of God), this year is no exception. With a decent variety of bands, there is something here to suit everyone, plus the Academy is one of those perfect sized venues. Big enough to create an amazing atmosphere, yet small enough to still create a kind of intimate feel.
First on the bill are the unfortunately unknown Insense (****), entering the stage to the sound of a bell tolling they dive into their short set. Sounding like a cross between Gojira and Machine Head, their chunky, down-tuned sound wins over a lot of people and gets a good response. They are definitely a band worth checking out, go do it now!
Up-and-coming metalcore giants Rise To Remain (*****) tear the place apart to the likes of 'The Serpent' and 'Power Through Fear'. Although their sound was a little bit off to begin with, they soon correct this allowing everyone to look in awe of the sheer speed and skill of guitarist Ben Tovey. They are perfect as a support band, making the crowd participate in things like synchronised head-banging as well as a rather destructive pit.
The screams and pits are put aside for a moment, for it is time for the experience that is Ghost (****). It's pretty hard to jump around or mosh to these guys, you just have to stand there and watch. But that doesn't matter, because their music and stage presence enough is entertainment in itself. If you haven't seen them before, Google them and you will see what I mean. Though their sound isn't all that 'metal', fuck me these guys are dark. Just goes to show that you don't have to down-tune a guitar or scream to be metal.
It seems it's impossible for In Flames (*****) to do a bad show. With more than half the set populated with track off their new album, 'Sounds Of A Playground Fading', it gets an immense response because they are just that good. Peppering the set with some of their classics like 'Cloud Connected' and 'The Quiet Place' just makes it all the more better too. My only issue is their light show, it seems that In Flames' goal is to kill off any epileptics in the crowd and then blind the rest of them. But you forget this when they unleash the chaos that is 'Take This Life'. In Flames, Y U NO DO HEADLINE UK TOUR?!
Now, personally, I thought that Trivium (*****) should be supporting In Flames, but then I saw them live. The crowd just responds so well to their blend of thrash and metalcore, and seeing everyone screaming along to 'Dusk Dismantled' was just an incredible sight to behold. Plus, frontman Matt Heafy knows how to whip up a UK crowd, praising them for all their support along the years as well as starting up a good old North/South rivalry between Manchester and London. Even if you're not a fan of Trivium, you cannot deny that they put on a hell of a show. Their sheer talent combined with their showmanship and crowd manipulation skills is a winning formula in anyone's book.
Written by Andy Roberts