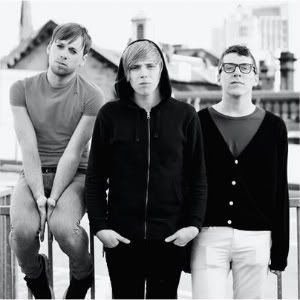 Date: March 22nd, 2012
Venue: 53 Degrees, Preston
Support: Next Stop Atlanta, Switchboard Spectacular, Flood Of Red
Website: www.thexcerts.com
Facebook: www.facebook.com/thexcerts
Twitter: www.twitter.com/thexcerts
Rating:


The Xcerts are now on round two with playing this gig. The first attempt landed with it being pulled through illness and now on the second attempt, the band once again fell ill from SXSW. However, this time they weren't going to pull the gig and bringing along friends Flood Of Red and locals Switchboard Spectacular and Next Stop Atlanta for support.
Opening tonight are Next Stop Atlanta (****). These locals are slowly but surely building themselves up as a pop-punk band that not only plays great music, but also as a band that plays with a heart-felt passion and drive fuelling their songs and live performance. Whilst the sound let them down a bit, the band did their outright best to compensate for it in every way.
Following up are Switchboard Spectacular (**), these guys last ever show and if the performing attitude for most of the band was anything to go by; it was a lack of interest in what they were playing that was the reason. Whilst the playing was technically fine, the whole thing was a bit lacklustre and boring to witness. Less of one final swing more of a completely given up was the end result.
Back onto the bands who plan to play again after today; Flood Of Red (*****) hit the stage with their abrasive mix that lies somewhere inbetween noise rock, post-hardcore and melodic ambience, with which they manage to produce both a dense room filling sound with the ability to contain a melody that cuts through still. The whole band plays with a ridiculous amount of energy which brings a good crowd response. The final song even caused one member of the crowd to pretty much lose it entirely and sing/scream at the top of his lungs, leading to a heart-warming if not comical end to the band's set.
Finally, The Xcerts (****) take to the stage, to play their fuzzed out powerpop/rock style tunes that are in the same vein as Twin Atlantic. As mentioned already, the band were ill from playing too many showcases over at SXSW. However, this didn't stop them from putting on a good show still. With plenty of energy put into the set though, it still would've been hard to guess the band was feeling even slightly under the weather. Breaking up playing with talking to the crowd, which was easier than for most gigs due to the small crowd attendance, it felt more like an open conversation rather than the usual amorphous cheers of usual, which had its own nice vibe to it. With the band playing well with both a great sound and good stage presence, they finished off the night well.
Whilst it would have been a shame for so many good bands to have to play to such a small audience, those who did show up got treated to a good gig. With plenty of great bands and for the size the audience, they still a really good response for those bands playing. With the bands who are carrying on still, make sure you get to any of the gigs near you, as each of the bands deserves plenty of attention.
Written by Jon Andrews
Founder & Editor for DEAD PRESS!