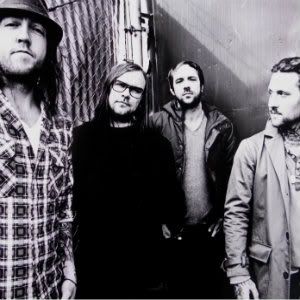 Date: April 25th, 2012
Venue: HMV Ritz, Manchester
Support: Marmozets / Don Broco
Website: www.theused.net
Facebook: www.facebook.com/theused
Twitter: www.twitter.com/wearetheused
Rating:


Though they may not be as popular as their peak days back in the early 00s and throughout the MySpace generation, The Used have always been a band who've sticked to their guns throughout their career. Of course, with appearances over on UK shores becoming a rarity, the hype for the latest run across the nation – in promotion of their latest record 'Vulnerable' – is as high as expected.
Openers Marmozets (****) may still only be in their teens, but what they've achieved within the past year and the live performance they provide is sometimes a struggle for bands double their age. Sticking mainly to material from latest EP 'Vexed', it's clear the Leeds outfit are confident and happy with their more heavy and math approach, so much so that guitarists Sam Macintyre and Jack Bottomly even get into the middle of the crowd during set closer 'Vexed'. If only the crowd were more responsive.
Bedford's Don Broco (****) are on their way to great success lately too, with their debut full-length album on its way in a few short months. Their keeping their name on people's lips by remaining almost constantly on the road, and the experience shines through in songs 'Do What We Do' and 'Top Of The World'. Sadly, the crowd again are generally motionless, even during the band's soon to be trademark dance move 'the walk' for latest single 'Priorities'.
It's not until headliners The Used (****) come to the stage that things actually get active on the dancefloor. Despite a unnecesarily long instrumental intro and a rocky start with frontman Bert McCracken to get a grasp on his vocals, the group eventually get in their stride. It's good that with their irregular visits to Britain that they appease to both the older and newer fans, playing a collection of songs throughout their entire back-catalogue, with some of the evening's most notable moments coming from the sing-a-longs of 'The Taste Of Ink' and the large circle pit for 'Blood On My Hands'. It can't go unnoticed that Bert has reduced a large amount of screaming that's featured on each track's studio counterparts, though the huge reaction from the crowd singing back 'All That I've Got' and 'The Bird And The Worm' is a credit to how strong the band's fanbase has remained despite their lengthy absence.
Written by Zach Redrup