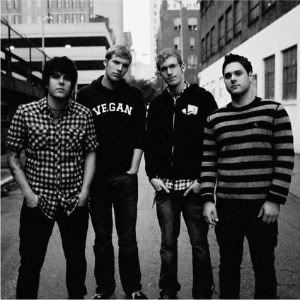 Date: December 4th, 2011
Venue: Academy 3, Manchester
Support: Insense, Rise To Remain, Ghost, In Flames
Website: www.theswellers.com
Facebook: www.facebook.com/theswellers
Twitter: www.twitter.com/theswellers
Rating:

Returning to the UK for a headline tour after a stint earlier in the year with The Blackout and an exciting performance at Nottingham's Hit The Deck Festival are American punks, The Swellers. Having just released new album 'Good For Me', they're back to show us what it has to offer in a live setting.
Starting off tonight are Into It. Over It. (****), which is actually just one person, Evan Weiss, who is not deterred by the half empty room. He immediately calls for what he calls the "fuck you horseshoe", where people don't want to stand at the front or the back so gather in the middle, to be disbanded and gets everyone together with opening song, 'Humble'. This song immediately shows off what a great voice he has. Throughout this set, the crowd gets informed about the back story of each song which, whilst entertaining and humorous, leaves the feeling if these were cut down just a little bit we'd get a few more songs. That said, the story behind the heartfelt 'Connecticut Steps' tells of a friend's death and really help the crowd connect to the song. If you can get down to a gig you really should, because there are so many stories and points that I don't have the room to put here, but you will definitely not be disappointed if this performance is anything to go by.
Three-piece Broadway Calls (****) seem the polar opposite to the previous performance and churn out as many songs as possible for their set, keeping the chat with the crowd to a minimum. They put on a great performance, and the vocal harmonies between frontman Ty Vaughn and bassist Adam Willis are pitch perfect, something which so many bands cannot manage live. Stand out songs include 'Basement Royalty' and 'Wake Up Call' overall providing a very enjoyable performance, but with minimal crowd interaction it gave the impression that it might not have mattered if there was actually anyone there at all. That said, I'm glad I was.
Headline act The Swellers (****) take the stage in unfortunately only a half-full room but aren't put off, and immediately tear into new album opener 'Runaways', which along with 'Parkview' demonstrates just how good their new material is. They keep the relatively small crowd entertained between songs with digs at previous tour buddies The Blackout and Young Guns for their haircuts, and also a few stabs at their native land of America for voting Republican. By all happily having a joke on stage, this band shows that they actually get along well with each other, which is a refreshing change of pace from all the stories of bands getting sick of each other on tour and almost breaking up. Comparatively lower tempo moments such as 'Warming Up' show the immense vocal ability of frontman Nick Diener, who keeps this impressive standard up for the entire performance.
Ending on crowd pleasing new single 'The Best I Ever Had' and encoring with 'Welcome Back Riders', The Swellers provide an energetic end to a brilliant night that deserved to have more people there than it did. Hopefully it will by the next time they come around.
Written by Jonathon Barlow
Founder & Editor for DEAD PRESS!