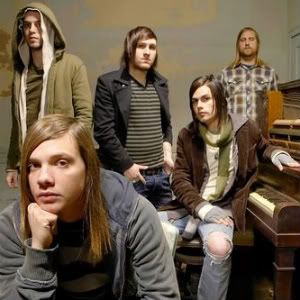 Date: March 19th, 2011
Venue: Moho Live, Manchester
Support: Lyu, Yashin
Website: www.redjumpsuit.com
MySpace: www.myspace.com/redjumpsuit
Rating:


Manchester's Moho Live is an almost perfect venue for any band; it's small, intimate and creates a great vibe for any crowd. Hosting a range of bands from Streetlight Manifesto to Gallows in the past few months, this underground hideaway venue never fails to accommodate a gig to remember.
First on tonight's bill are Lyu (***), Birmingham's answer to Funeral For A Friend. Bursting full of energy and enthusiasm, it doesn't take long for them to get the crowd to start nodding along to their emo-esque anthems. However, by the end of their short set, Lyu had everyone well and truly moving and bouncing to well executed songs such as 'Here The Line'.
The crowd eagerly awaits for duel-vocal Yashin (****) as smoked is poured onto the stage. The lights fall and a dub step remix of 'Awake While I'm Asleep' (the intro track from their debut, 'Put Your Hands Where I Can See Them') is pumped out of the speakers. Lasers light up the venue and Yashin enter in style to a sea of screaming fan girls. Opening with 'Friends In High Places', vocalist and teen heart throb Harry Radford has an immense live voice, which is hard to find in the emo rock scene. Co-vocalist/screamer Kevin Miles adds phenomenal screams and growls which really add depth and impact to the chorus of their songs. With great crowd interaction and their boyish charm, they could well have headlined this show. Dedicating songs to random fans and crowd surfing left, right and centre, Yashin are definitely a band to look out for.
Despite most of the crowd leaving after Yashin finished up, there's still an air of anticipation in the room. Before The Red Jumpsuit Apparatus (****) take the stage, the theme for Harry Potter is blasted out, which is an odd choice of mood setter I feel. Wonder and whimsy is not exactly the right feel for a band like this. Never the less, they storm on stage to a hail of applause and cheers. Lead singer Ronnie Winter, looks out with pride and states "This is the last show of the tour, so let's make it a show to remember".
After a somewhat weak start from the opening songs 'In Fate's Hands' and 'Damn Regrets'. But it doesn't take long for RJA to find their form and belt out track after track from their first album, 'Don't You Fake It'. There are numerous awkward pauses between songs and a few technical glitches, but otherwise the band play a tight set. Halfway through the set, RJA clear the stage, leaving Ronnie alone with his acoustic guitar. He serenades the crowd with an acoustic rendition of 'Aliens Exist' by Blink-182 before a great rendition of 'Your Guardian Angel'. Towards the end of their disappointingly short set, RJA get the crowd to sing along to 'Face Down', by initiating a cheeky singing "test" of Rihanna and Eminem's 'Love The Way You Lie' beforehand. Overall, RJA gave a solid performance and certainly ended on a high powerful note.
Written by Andrew Roberts