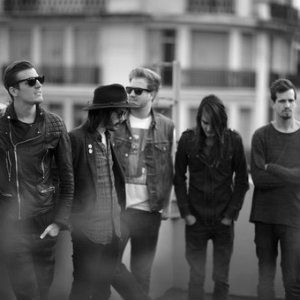 Date: September 24th, 2012
Venue: Garage, Glasgow
Support: Arkells / This Century
Website: www.wearethemaine.net
Facebook: www.facebook.com/themaine
Twitter: www.twitter.com/themaine
Rating:


The past few years has seen Arizona five-piece, The Maine, grace our shores a number of times along with a number of different bands. After the huge success of their most recent album, 'Pioneer', The Maine have embarked on a world tour and have made it once again to the UK. Once again, The Maine are playing one of the best venues in Glasgow, The Garage.
Arkells (***) have a slightly more indie sound when compared to the other two bands on the bill. Despite this, the band fit perfectly in to the line-up for the evening and singers, Max Kerman and Mike De Angelis have an incredible amount of stage energy that absolutely lights up the whole room. The whole of their set is entertaining and they prove to be the perfect warm up for the main band of the evening.
Following shortly after, This Century (****) play a nine-song set which is absolutely electric. Singer, Joel Kanitz has a real way of working the crowd who are screaming his band's songs right back at him. It's hard to pull your eyes away from any of the set, This Century pick a mix of songs from both their older and newer work, incorporating new song, 'Skeletons' into the set as well. In many ways, This Century are very similar to The Maine, with even their singers looking alike. A better band couldn't have been picked to open up for the main band of the evening.
It doesn't take long for The Maine (*****) to take to the stage like ducks to water. They play eighteen songs, mixing from 'The Black And White' album to 'Pioneer' and also slotting in a couple of songs from their new EP, 'The Good Love'. It's almost intoxicating to watch The Maine on stage, the whole set seems very natural and a lot of fun, especially mid set when Joel Kanitz of This Century joins in to sing 'Into Your Arms'. As their set draws to a close, the band don't slow it down, finishing with the perfect song to end the set, 'Don't Give Up On Us', a great reminder to the crowd that The Maine will definitely be back.
The Maine never fail to please live and have proved tonight that, despite having a rollercoaster year, they can still maintain an extremely loyal fanbase and are still incredible to watch live.
Written by Caitlyn Dewar
Founder & Editor for DEAD PRESS!