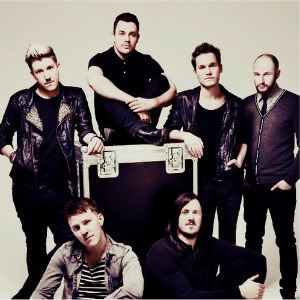 Date: December 29th, 2008
Venue: The Sugarmill, Stoke-on-Trent
Support: SaidMike, Attack! Attack!
Website: www.theblackout.co.uk
MySpace: www.myspace.com/theblackout
Rating:

This date is a special one for The Blackout's calendar for one, arguably two reasons; one being that it's the birthday of vocalist Sean Smith, and the arguable second being that it's the second time the band have played in Stoke in their career. However, the band are back at The Sugarmill during their short after Christmas tour, and have brought along another two Welsh bands for their support.
Openers SaidMike (**) try keeping things simple yet effective, making sure that onstage they're still to some extent visually entertaining for current fans and potential new ones, but not to an extent where if something went a tad wrong it could all go balls up for them. They don't do too bad of a job getting the crowd warmed up for the following support band and headliner either, but it'd be extremely generous to say they were an insane act. There's definitely room for improvement, and a few more songs that are live-friendly won't go amiss either, but there's still more time for SaidMike to get all of that under their belts.
Attack! Attack! (***) have improved greatly in the past few months, at times oozing out pure passion and energy in what they've come to do in Stoke tonight. Not ones to pass up any opportunity of increasing their fanbase, Attack! Attack! pull out of their hats songs like 'This Is A Test' and 'Too Bad Son', which show what they're all about more than their other material, and offers times for crowd participation. They may be pretty fresh on this whole scene at the moment, but the band sure know how to go about playing a successful show more than some others who've been at the game longer.
An explosion of screams and applause overcomes the room when Welsh post-hardcore superstars The Blackout (****) come onstage, walking on to the cheesy pop classic 'Rock Ya Body' by Backstreet Boys. The onslaught soon follows, with the opening song of the set 'I'm A Riot? You're A Fucking Riot!' proving to be a firm fan favourite, and having most of the lyrics sung right back at vocalists Sean Smith and Gavin Butler. As soon as the song is over, the crowd start singing the happy birthday chant for Sean, and as expected of a gig with The Blackout, humourous and witty remarks are returned across the remaining space of the evening. There's even an interlude where the band play the opening of 'Lapdance' by NERD, whilst Sean Smith strips himself of his trainers, socks, and jeans, leaving only his boxer shorts and shirt on his body for a few moments, which is welcomed by many girls shrieking and screaming with delight. Aswell as old favourites being played, like 'Hard Slammin'', 'The Beijing Cocktail', and 'Spread Legs, Not Lies' being a few songs played, The Blackout showcase some new tracks, like 'Top Of The World' and 'ShutTheFuckUppercut'. Charisma is almost literally sweating off the members throughout the whole set, and shows a very possible promise of them reaching higher pedestals in the near future.
Not a bad way to spend your birthday if you're in a band, and evidence that The Blackout aren't going anywhere without a fight. Expect them to be pestering your eyes, ears, and other senses throughout 2009.
Written by Zach Redrup