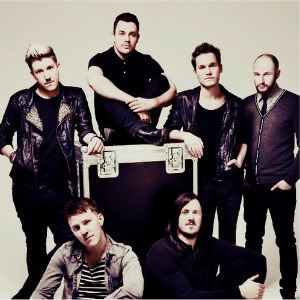 Date: October 7th, 2007
Venue: Academy 3, Manchester
Support: Flood Of Red, Pierce The Veil
Website: www.theblackout.co.uk
MySpace: www.myspace.com/theblackout
Rating:

After recently releasing their debut full-length album 'We Are The Dynamite!', Welsh post-hardcore rockers The Blackout have taken to the UK for their second headlining tour this year, and have brought Flood Of Red from Scotland and Pierce The Veil from America along with them for the ride.
First support band Flood Of Red take to the stage, and from the opening song on their set they've got the crowd pumped up and ready to face what they've got coming for the rest of the night.
The second act for the show comes all the way from USA, and it seems that perhaps Pierce The Veil are not quite as popular and well known to the crowd as Flood Of Red. But they sure know how to play, and they know how to make their music well. However, with the crowd not being as familiar with their material as with that of Flood Of Red, there were occassional sessions of the crowd jumping and a few words sung back to the band, but Pierce The Veil just couldn't quite achieve what the previous support band managed to pull off. Either way, they still managed to keep the crowd warmed up enough for the headlining act, and will definitely warrant some further investigation. Seeing them again when they're better known on these shores will certainly be something to look forward too!
By approximatley 9:10PM the evening's headliners make their appearance to show the support acts just how it's done down in Manchester. The six-piece take to the stage receiving a barrage of cheers and whistles before they've even managed to pick up their instrumentents and play a single note. Set opener 'Tick Tick BOOM!' from the band's new album is an instant shout and chant along live anthem, with constant bellows of "We… are… the dynamite!". Dynamite is a perfect word to use for what The Blackout deliver, with a range of both old and new songs throughout the set-list, bringing something for the new fans aswell as the old.
A lot of the time they're playing what they refer to as dancing/jump along songs, including past single release 'Hard Slammin" to get the audience enjoying themselves and involved as much as possible. Even in between songs they get the crowd into a conversation and bring along humourous, if very random topics, including one about vocalist Gavin Butler having a beard full of gold facial hair which he paints over and hides with mascara each day.
Next up, they play one of the more sing-a-long tracks from new album 'We Are The Dynamite!' entitled 'I Know You Are, But What Am I?', with a good half of the venue singing along to the line "I wanna taste those lips. Why don't you shake those hips?" – a true crowd pleaser. Other songs executed by The Blackout include a tune apparently about werewolves – 'She Is Macho', a song about girls making rumours – 'Spread Legs, Not Lies', recent single release – 'The Beijing Cocktail', and a song recorded originally featuring guest vocals from Ian Watkins from Lostprophets, 'It's High Tide Baby!'.
But, soon enough their set is coming to an end, but The Blackout aren't going to go without a bang, and play one of their more popular tracks 'I'm A Riot? You're A Fucking Riot!'. This track – featuring the most taboo language the band have produced to date – gets the crowd literally jumping on one and other more than they have done for the rest of the night, with a good 10 different people crowdsurfing throughout the song. Those who weren't doing that were jumping up and down on the venue floor as if they wanted to break through to the floor below.
After 3 minutes of audio blasphemy the song ends, and the band say their goodbyes and take off, leaving nothing but a crowd calling for more. Surely enough they soon come back to end their set for good with a two song encore. They pummel what's left of their crowd with new track 'Life & Death And Space', which they've apparently never played live before, and end the show with their recently recorded cover of the Limp Bizkit anthem 'My Generation', which they are accompanied by Flood Of Red's Jordan and Dale for some vocal help, but they again jump into the crowd and surf throughout most of the song.
The Blackout, making this nu-metal track their own, soon bring this entertaining night to an unwanted end, clearly not anywhere near wanting to end this rollercoaster of being in a band. The Blackout really are the dynamite!
Written by Zach Redrup