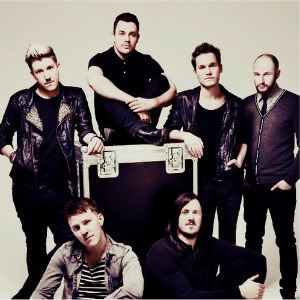 Date: May 20th, 2009
Venue: Club Academy, Manchester
Support: The Urgency, Hollywood Undead, Silverstein
Website: www.theblackout.co.uk
MySpace: www.myspace.com/theblackout
Rating:

On the horizon sits the release of Welsh's post-hardcore pack The Blackout's second full-length release, entitled very confidently 'The Best In Town'. But then again, since when is confidence always been a bad thing, especially when delivered with a reason to be so confident? It's up to the 6-piece to deliver the reason tonight.
Starting the barrage of three American originating support acts comes The Urgency (**) who are most definitely the lightest and mainstream act on the bill. Their alternative rock bordering into heavier regions seems a little bit stale, with variation coming out as a low priority for the most part. Presence on the stage isn't anything to hoot or rave about either. The band members are always complimenting the audience, and receiving a lot in return which is nice and all, but since when does that catapult a band onto a pedestal. It's not all bad though, a few songs in their setlist do have their catchy and memorable moments, but nothing to the extent for even a 20 minute loop in your head.
Things are flipped completely to the other end when the stage floor is flooded with a gang of youths equipped completely with masks and urban street gear. Hollywood Undead (****) are quite literally a manic mob, opener 'Undead' detonates the crowd into an instant flurry of shrieks, mosh and sweat with every word screamed back into the members faces. The set continues onwards, with 'Young', 'My Black Dahlia', and 'No. 5' all making an appearance, and are all again sung back to the group almost flawlessly. It makes you think about how large their online presence has soared, with their album only being released on UK shores for two days yet the majority of spectators know the lyrics like the backs of their hands – evidence that when it comes to shows, illegal downloading has its one of very few pros for the band.
Silverstein (****) bring visuals back to normality, removing the illusion of Halloween and/or masked street gangs to the place. Playing it safe by avoiding the lesser-known material from their latest album 'A Shipwreck In The Sand' and sticking to their much more popular offerings seems to be their plan of action for the evening, and it works like a treat. Reeling off heavy monsters like 'Smashed Into Pieces' and 'My Heroine' erupts even more energy and chaos from the already exhausted crowd, and shoving in slightly less manic-driven numbers like 'Smile In Your Sleep' shows the range of the band's back catalogue and how much effort they put into their show. Frontman Shane Told runs around like he's at a fairground, and belting out screams and melodic vocals in such a manner he could be compared to Dr. Jekyll and Mr. Hyde.
Though both Silverstein and Hollywood Undead were tough acts to follow and top-off, The Blackout (*****) manage to pull it off with flying colours. The audiences reaction from the previous performers two-folds, and literally explode into a minefield of flying arms, heads, crowdsurfers and random moshpits ranging from sizes small to fucking large. A range of oldies like 'Hard Slammin" to newbies like 'ShutTheFuckUppercut' are delivered in a solid and exciting state, with vocalists Sean Smith and Gavin Butler and co. finding it very hard to keep still. Taunting the Manchester crowd into saying natural city rivals Liverpool later on in the tour could surpass their support to the band only excels things greater during 'Prepare For A Wound' and the song that "goes out to all the ladies in the room" 'I Know You Are, But What Am I?'. However, nothing surpasses the set finale 'I'm A Riot? You're A Fucking Riot!' in terms of everything that makes an exciting, energetic, and even as far as memorable performance. The circle pit incicted quite literally almost covers three quaters of the room floor, with a continuing cycling blur of a good 40 to 50 people going completely mental, giving the Welsh sextet a more then pleasing send-off for the night, and cementing a tough position for Liverpool to compete with.
It's safe to say that The Blackout should be far more than confident with releasing an album under the name of 'The Best In Town'. With the quality of their performance and reception in Manchester's Academy 2 venue, and a band that's grown from not too long ago could only just sell-out the much smaller Club Academy, then other much larger homegrown acts like Bullet For My Valentine and Lostprophets may be left in the dust, and resulting in The Blackout at the very least being the best in Wales.
Written by Zach Redrup