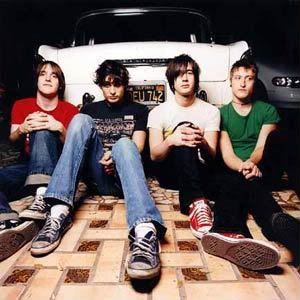 Date: April 29th, 2007
Venue: NIA, Birmingham
Website: www.allamericanrejects.com
MySpace: www.myspace.com/allamericanrejects
Rating:


As headliners Brand New played in Saosin's slot, due to Saosin's lead singer being sent ill to hospital the previous day, The All-American Rejects have become tonight's headlining act – an opportunity not to be squandered at any cost.
The band take to the stage, pick up their instruments, and then do what they've come here to do. Opening with one of their most popular tracks, 'Dirty Little Secret', it'd be a lie to say that not everyone in the arena knows this song, with all the lyrics being sung back to the stage. As the set goes on and the band have their interludes in-between songs, it seems frontman Tyson Ritter has a fondness for the western cowboy accent, God knows why. He soon asks the lighting technicians to scan across the crowd to make them feel like they're guests on a TV game show – and they love it. The band continue to play, through songs like 'Swing, Swing', 'It Ends Tonight' and 'Stab My Back', the crowd feed off the music and energy, until before you know it they take off, just as fast and as quick as they came on. They return to finish this night and this weekend festival off with their most popular tracks to date: 'Move Along'. A great end to this years Give It A Name festival, some may say that it has been the best so far.
Written by Zach Redrup