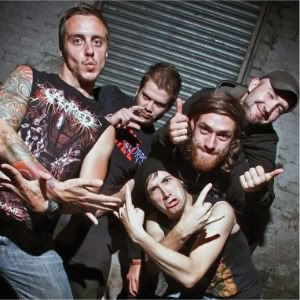 Date: January 23rd, 2013
Venue: The Fleece, Bristol
Support: Burials / Devil Sold His Soul
Website: www.sylosis.com
Facebook: www.facebook.com/sylosis
Twitter: www.twitter.com/sylosis
Rating:


If there is one tour that you go to this Winter, then make it this one. Sylosis and Devil Sold His Soul are proof that British metal is still blooming, and they'll certainly reignite your faith in the younger generation bearing the torch.
The local support tonight comes from Burials (**). It's their self-confessed biggest gig to date and so it's unfortunate that the sound is ruined before they even get going. It takes a couple of songs for us to get bass, and even then the tone isn't terrific. Nevertheless, the music is certainly promising; obviously inspired by Devil Sold His Soul, heavily dreaded vocalist Liam's roar would shatter the sun from the sky, but when it comes to crowd interaction he's like a shy school girl. Guitarist Dan flails sweet melodies as if it's as simple as brushing his teeth, but the atmosphere never really builds to any sort of a climax.
With a quick soundcheck out of the way, Devil Sold His Soul (*****) take to the stage in a shroud of fog and dipped lights. When they erupt into their set, it's clear that they're well-practiced and confident with their live show. It's mesmerizing to watch frontman Ed Gibbs with his dodgy haircut flooring the front few rows as DSHS weave their way through a selection of songs from their career, throwing in a few cuts from their latest opus, 'Empire Of Light', featuring 'VIII'. It's actually quite surprising how much DSHS have in common with post-black metal bands like Altar Of Plagues and Wolves In The Throne Room. There's a true beauty-in-chaos feel about them. Whilst you feel uneasy about the off-kilter chords, you feel entirely trustful of the music and its everything-will-be-okay atmosphere. Finally, we are treated to 'End Of Days', a truly stunning 9 minute track that would bring a tear to the eye of even the hardiest of metalheads.
You may think that losing your vocalist would destroy a band, but Sylosis (*****) have merely become stronger from it. Josh Middleton's shift from guitarist to vocalist/guitarist is highly impressive, especially when he pulls it off with such verve. The mental capacity to solo so well whilst still hurling out floor splitting roars is one that cannot be underestimated. 2012's 'Monolith' wasn't a standout for many people, but when transferred to a live setting they become a lot clearer. Songs like 'All Is Not Well' and 'A Dying Vine' perfectly compliment the classics like 'Teras' and 'The Blackest Skyline'. Sylosis play like a band far greater than their years and, when you figure that they've been around since the new millennium, you wonder why they aren't a lot more popular than they are currently. They are the UK's answer to Trivium and it's damn time they got the recognition for it.
There are only four dates left on the tour: London (24th), Birmingham (25th), Glasgow (26th), and Manchester (27th). Get your skinny ass down to one of these dates.
Written by MG Savage