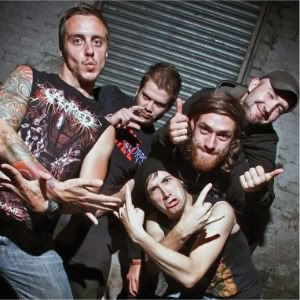 Date: October 1st, 2011
Venue: Club Academy, Manchester
Support: Chapters, Anterior, Malefice
Website: www.sylosis.com
MySpace: www.myspace.com/sylosis
Rating:


Considering the temperature outside, I dread to think what it is going to be like in underground Club Academy venue tonight. Having just started their headline tour, Sylosis are making the most of their time left in the UK before supporting As I Lay Dying over in the US.
As Chapters (****) take the stage, there are barely 30 people in the room, nodding along politely to their crazy heavy progressive metal. But, it's when the double bass pedals kick in that really draws in a decent crowd. These guys sound incredible, they really do, and they are a great choice of support. The only issue is not enough people know them, which is a crying shame. For if they were better known, there would be more of an atmosphere and more movement other than people just head banging along.
Now with Anterior (*****) I am in two mindsets. On one hand, their music wasn't as good as Chapters and it was a tad generic, but on the other hand, they created a far better atmosphere. It took them a song or two to establish their sound, but when they did find it, by god it was good. With his very strong Welsh accent, vocalist Luke Davies whips up a shit storm, inducing circle pits, walls of death and a terrifying pit the size of the venue. Not to mention that there was more wind-milling than a Dutch harvest (bah-dum *tisk*).
Much like Anterior, Malefice (*****) get off to a bit of a slow start, but that is soon corrected. With riffs chunkier than a frozen toffee crisp, it doesn't take long for them to find their form. With pits far more brutal than anything before, Malefice sure know how to cater the needs of a crowd. Plus, they seem genuinely pleased to be here, buttering up the crowd with heart filled grateful speeches. Ending on 'An Architect Of Your Demise' just leaves the crowd chanting and wanting more, perfectly paving the way for the headline act.
When Sylosis (*****) emerge onstage, all hell breaks loose. It kinda makes it sound like an advert; "For instant chaos, just add Sylosis". Given only an hour to play, they make the most of it by storming through their set. But by no means did they rush anything, each song was played to perfection, I was in genuine awe of just how good these guys are. Lead singer Josh Middleton (who looks identical to my cousin and fellow DEAD PRESS! writer, Martin Savage) has a phenomenal live voice. This is even more impressive by the fact that he is playing insane guitar riffs at the same time.
The reason I've given this gig 10/10 is because from the off I was blown away by each and every band. As most of the bands mentioned, each one is British, and it is so refreshing to see British metal is still strong and thriving. I strongly recommend that you check out each support band mentioned here, you will not be disappointed.
Written by Andy Roberts