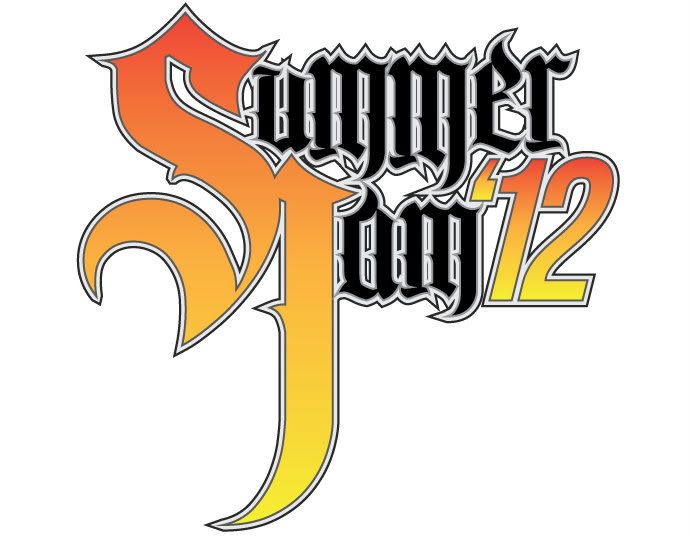 Date: July 20th, 2012
Venue: The Zoo, Manchester
Website: www.summerjamfest.co.uk
Facebook: www.facebook.com/summerjamuk
Twitter: www.twitter.com/summerjamuk
Rating:


Not content on the lack of rock orientated festivals within Manchester, the guys over at Mutiny Events decided to call this to an end immediately and so enters the debut year of 3-day weekender, SummerJam. Kicking things off with a bit of a warm-up show at The Zoo before things go into full force at Moho Live the next day, we got our asses down there to experience the first year of SummerJam from start to finish.
Opening up the Friday, and therefore the festival as a whole are Manchester locals I'll Stay In Memphis (***), who for comparison reasons are kind of like a recent Underoath. In a live setting, the band are far heavier than you'll find on record, with Joel Heywood delivering some monsterous vocals. Though the far heavier aspect is welcomed, the huge sounds sometimes drowns out the more atmospheric backdrops found in songs like 'Faultline' and at times Tom Clayton's cleans sometimes have trouble breaking through the huge layers of distortion.
Seven headed Derby based outfit Violet (****) have trouble fitting all of their members on the stage, but this has no impact on their delivery. Dual vocal force of Jonny Nelson and Charlie Bass is both overwhelmingly impressive and furiously manic respectively at the same time. Though crippled by several technical issues throughout the set, and as such forced to reduce their set time, the likes of '…But You Have Heard Of Me' are staple post-hardcore classics. But seriously, watch out Jonny Craig, because Jonny Nelson is homing in fast on that crown of best clean singer in the post-hardcore scene.
Things head for a more dramatic turn with The Elijah (***), who even have a projector and white backdrop for the length of their set. Though live the band are both devastatingly beautiful and carry much emotion of their shoulders, the problem for some part is they have many ideas going off here and there, and before one can truly take off they move onto something else. Still, there's very good reason why these guys are receiving a huge buzz lately, and it's going to take that one helpful shove to get them in the spotlight.
Closers As Cities Burn (**) come across as a bit of an odd band to end things off with. Aside the previous three bands before them, these guys are far more on the alternative rock spectrum and bring a more mainstream edge. Nothing wrong with that at all, unless like these guys almost every song interweaves into the other with such effortlessness. Maybe it's just the bill that they stood against, but at the end of it all as one by one people were slowly becoming more and more disinterested, As Cities Burn will have served much better with a slightly shorter set.
Written by Zach Redrup