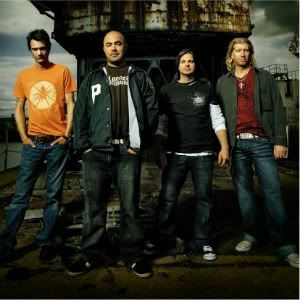 Date: October 8th, 2011
Venue: Academy 2, Manchester
Support: April Divine
Website: www.staind.com
MySpace: www.myspace.com/staind
Rating:


Post-grunge legends Staind have graced the UK shores yet again for a brief headline tour. They've had a busy and nostalgic summer, playing with the likes of Korn and Limp Bizkit. Having recently parted ways with their long-term drummer Jon Wysock, they're still going strong and are promoting their seventh self-titled studio album. Attracting a slightly mature crowd, it will be interesting to see what Staind do to break the mould.
The only support of the night are the Swedish rockers April Divine (**). They try hard god bless them, they really do, but luck was really isn't on their side. There were technical issues left, right and centre, as well as guitar strings breaking and ear-splitting feedback too. This wasn't helped with the silent, awkward pauses in-between songs. However, when things did go tits-up, they used their initiative and kept the crowd entertained with stuff like and improv jam session or witty banter. They do bring it back somewhat by ending on a decent and catchy song that finally gets the crowd going. Apart from the odd drunken twat, they got a good and polite response from the crowd though.
The room is now packed to the hilts, everyone eagerly waiting for Staind (****) to take the stage, and when they do, a deafening scream rings out across the venue. Kicking things off in true Staind style, they open with the hate filled 'Spleen'. In fact, their choice of songs for the show was definitely on the heavier side. As this tour is focused on their latest album, you can expect the night to be focused on the new material and Staind balanced their catalogue perfectly, playing all the crowd favourites like 'So Far Away' and 'Right Here' whilst peppering the set with the heavier songs from the new album.
The thing with older crowds though, is that you do tend to get a few dickheads, who just get pissed and shout the entire gig. Why pay £20 to go see a band, just to get so pissed you forget where you are and talk to your bastard friends so loud, that no one around you can hear the fucking band play? Wankers. Another issue with the crowd (this goes for crowds in general, not just at this gig) is couples. If you are just going to eat each other's faces or finger each other in the corner, then fuck off and do that at home.
Anyway, I digress. The evening wasn't a total loss, when you can hear the band they're on full form and play from the heart. They even play a little bit of 'Sweet Child 'O Mine' (to which the crowd carries on singing) before launching into the almighty anthem that is 'Outside' Disappointingly, it doesn't have as much impact as I would have expected to begin with, but when the crowd starts screaming out at the top of their lungs to the final chorus, that's when it was just so powerful and wonderful to be a part of. After this they bring out the old guns, with the likes of 'Mudshovel' and 'It's Been Awhile', before leaving us with the rather appropriate 'Something To Remind You'. Although it;s a bit of an anti-climax, it is still a touching ending to a nostalgic and wonderful gig.
Written by Andy Roberts