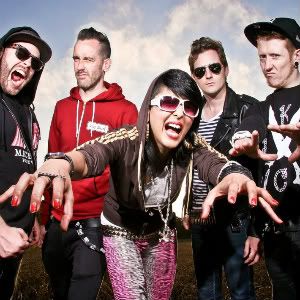 Date: October 15th, 2011
Venue: Moho Live, Manchester
Support: Stand Out Riot, Daywalkers
Website: www.sonicboomsix.co.uk
MySpace: www.myspace.com/sonicboomsix
Rating:

Seeming to be permanently on tour, Sonic Boom Six are back in their home town. If they aren't out supporting ska giants such as Reel Big Fish or Less Than Jake, then they are burying their heads in a recording studio somewhere. Tonight, they're playing in the intimate Moho Live, and with the venue being renowned for its intimate feel, tonight's show can only be good.
First on the bill were local legends, Stand Out Riot (*****). Now, there are one or two bad things that need to be said. Due to a rushed sound check, the drums and guitars overpowered the vocals, there was a bit of bass overkill and the guitars were a bit too distorted. Right, now that bit is done, let me tell you just how IN-FUCKING-CREDIBLE this band are. Imagine Streetlight Manifesto, but with three hot girls and an electic violin. They are the perfect ska support band, with lead singer and trombone player Francis Hunt leaping upon the barrier and commanding people to move. Each and every one of their songs induced a 'holy fuck' moment in my head, the kind that makes you wanna go away and start a band of your own. Not to mention the final skank-tastic song 'K's and X's' was simply amazing.
Appearing from nowhere, Daywalkers (***) emerge onstage and launch into their rap-metal set. Sounding like a sped up version of Rage Against The Machine, they don't exactly fit in with the tone of the evening. Don't get me wrong, they sound incredible and put on a hell of a show, but would be far more suited supporting bands in the areas of Skindred or KoRn. Regardless though, a decent portion of the crowd love them and bounce/mosh along throughout. I personally would LOVE to see this band again, just in a more metal-orientated show.
Headliners Sonic Boom Six (*****) waltz onstage to some of the grimiest dubstep around, and things kind of stay that way. Nearly every song had some kind of dub involved, much to the crowd's delight. There is something about it that just gets everyone moving so much quicker. Lead singer Laila K is up on the barrier, like a cat on a fence, for most of the set, rallying up the crowd and really giving the evening a wonderful and intimate feel.
Hailing from the city of Manchester, they decide to treat the crowd to a few sneaky b-sides, like 'Five Minutes With You', and to some of their new material, which has a distinct Pendulum feel to it. New tracks 'Virus' and 'Karma Is A Bitch' definitely get the most movement of the night and cause chaos in the pit. In fact, the crowd never stops moving to SB6; their hip-hop/dub/ska belnd is just so god-damn infectious.
Since it's also Barney Boom's birthday, they decide to celebrate in style with the almighty (and my personal favourite) 'Strange Transformation'. As the end of the night draws near, they slow things down a tad with the likes of 'Sunny Side Of The Street' and 'Until The Sunlight Comes' leaving people with a warm and uplifted feel. Although the lack of an encore left people booing and a bit pissy, they will definitely be coming back for more very soon.
Written by Andy Roberts