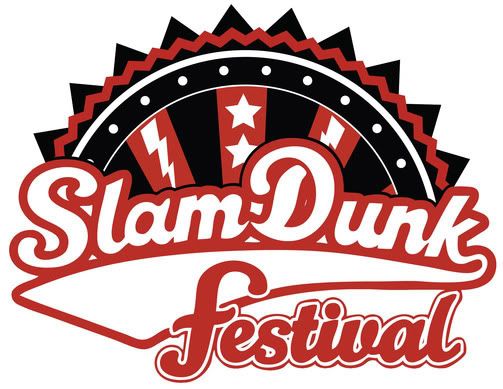 Date: May 26th, 2012
Venue: University, Leeds
Website: www.slamdunkmusic.com
Facebook: www.facebook.com/slamdunkltd
Twitter: www.twitter.com/slamdunkmusic
Rating:


Gallery: Click here!
Year in and year out, Slam Dunk manages to maintain its reputation as one of the strongest indoor music festivals that the UK has to offer, especially in terms of festivals that offer brilliant pop-punk acts, both established and up-and-coming. Returning again in 2012 with two dates under the helm for the weekend, we made our way to the original North date to take part in what would undoubtedly be one of the best events 2012 had to offer.
---
ATTICUS STAGE
STRAIGHT LINES
Sadly, we were unable to catch their set. Sorry.
LOWER THAN ATLANTIS – 8/10
It's crazy to think how big Watford's Lower Than Atlantis have become off the back of their last record, 'World Record'. Ascending the ranks from the small stage last year to the main stage 12 months later, songs like 'If The World Was To End' and 'High And Five' seem far more suited to the larger venue. On top of that, at least the LTA hungry crowd are far less crushed than they were this time last year. [ZR]
SAY ANYTHING
Sadly, we were unable to catch their set. Sorry.
MOTION CITY SOUNDTRACK
Sadly, we were unable to catch their set. Sorry.
FUNERAL FOR A FRIEND – 7/10
One of the longest running bands on today's line-up, Welsh rockers Funeral For A Friend have got the main stage packed out for their set. With everyone in the band having great flair with playing made them nice and entertaining to watch, even newly recruited drummer Pat Lundy managed to fit into his new mainframe with ease and comfort. Unfortunately, the sound was let down by the microphone cutting in and out and fuzzing out the vocals beyond recognition. Still, a noteworthy set. [JA]
THE BLACKOUT – 8/10
These Welsh rabble are the kind of band you have to see live to understand their popularity. With every member of the band oozing energy and flair for what they're doing, you really can't help but be drawn in. Dual vocals from Gavin Butler and Sean Smith gives them an impressive range of styles and almost constant movement and microphone swinging. This all went down incredibly well with all the people who had shown up for their set, showing everyone at Slam Dunk why they've got to where they are today. [JA]
TAKING BACK SUNDAY – 9/10
The pièce de résistance of the entire Slam Dunk line-up, Taking Back Sunday are evidently as relevant and as loved today as they were back in their peak years. Despite still suffering from a broken leg encased in a cast, Adam Lazzara still does his best to deliver the best set possible and TBS do far from disappoint. From the opening crunch of 'Error: Operator' and the darkness of 'A Decade Under The Influence' straight through to the huge choruses thrown right a the band through the likes of 'You're So Last Summer' and closer 'MakeDamnSure', it's clear that Taking Back Sunday are so this summer. [ZR]
---
HONOUR OVER GLORY STAGE
UPON A BURNING BODY
Sadly, we were unable to catch their set. Sorry.
I SEE STARS
Sadly, we were unable to catch their set. Sorry.
FOR THE FALLEN DREAMS – 5/10
Though their style clearly provides a lot of teeth, and their Slam Dunk set proves to be no different, but their delivery seems a little lacklustre compared to what For The Fallen Dreams are known to have the potential of achieving. Dylan Richter's clean vocals seem to be this band's major downfall today, not making the best of transitions between them and his impressive screams and barks. Otherwise, an enjoyable set. [ZR]
THE WORD ALIVE – 8/10
Despite only making a few short visits over to the UK thus far, the hype for The Word Alive is still strong, and understandably so. Opening up with 'Hounds Of Anubis', the Arizona based outfit have far more bite to them than is portrayed on record and the added synth presence, most notably in new album offering 'Wishmaster' and it's dubstep-esque backdrop. Tyler "Telle" Smith's screams show obvious improvement too, at times managing to reach demonic highs. Come the drop of new album 'Life Cycles' in July, prepare for a UK takeover to follow soon after. [ZR]
OF MICE & MEN – 7/10
With visits over to British shores becoming increasingly common as of late, it's clear Of Mice & Men want to make and strong impression on the UK live circuit before bringing to light a follow-up to last year's 'The Flood' record. Judging from this set alone, Austin Carlile and co have nothing to worry about, inciting pits and even jumping face first into the crowd to whip up true carnage. Though still on search for a replacement clean vocalist since Shayley Bourget's leaving earlier this year, Austin manages to hold his own for the time being. [ZR]
WHILE SHE SLEEPS – 10/10
Still with only one mini-album under their belt and their overwhelmingly anticipated full-length 'This Is The Six' to follow very soon, the hype for While She Sleeps is almost unbelievable. However, within the first few seconds of set opener 'Dead Behind The Eyes', it all begins to unfold as to why WSS are one of the UK's hottest bands today. Lawrence Taylor is a commanding frontman, guitarist Mat Welsh is worth watching alone, and a stage dive from Bring Me The Horizon drummer Matt Nicholls midway through 'Crows' adds a nice touch. [ZR]
CANCER BATS – 9/10
Why stay on stage, when you can dive off of it instead? This seemed to be the ethos of frontman Liam Cormier. During set opener 'Sabotage' he'd already had gone crowd surfing twice. With the crowd taking this as a cue to go mental themselves along with him, the pits broke out adding to the chaos that Liam whipped up. The rest of his bandmates added their flavour too, together creating flawless crushing hardcore sound they are known for. This was a great set delivered by a great band. [JA]
EVERY TIME I DIE – 9/10
The state of mental maintains itself throughout Every Time I Die's set from the moment frontman Keith Buckley screams the words "I want to be dead with my friends" in set opener, 'Underwater Bimbos From Outer Space'. The carnage ensues through the set, from the downright upfront 'No Son Of Mine' to the rifftastic 'I Suck (Blood)', seeing guitarist Jordan Buckley literally leap into the thick of things, dying to get involved with the action. Keith keeps this going, commanding both those who do or don't know the band to run in circles and throw their bodies into another body. Fantastic stuff. [ZR]
ARCHITECTS – 8/10
With new album 'Daybreaker' out literally two days after the set, the eagerness to get some new tracks shoved into their set must be at the brim. Still, a lot of it makes its way in there, from the moving opener 'Devil's Island' and the guitar mastery of 'Alpha Omega', it's obvious the Brighton metallers are happy to inject something a little more refreshing into proceedings. Heavy hitters 'Numbers Count For Nothing' and 'Early Grave' bring a bit of stomp into the mix, and the sing-a-long enticing 'Follow The Water' gets the whole room singing along. The recent departure of long-time serving axeman Tim Hillier-Brooks seems a little evident onstage, but otherwise Architects have claimed their own crown as headliners of the Honour Over Glory stage this year. [ZR]
---
VANS OFF THE WALL STAGE
HILDAMAY – 7/10
Opening today's events on the Vans Off The Wall stage, Hildamay offered up some great melodic hardcore style sounds with plenty of presence, and whilst there was a few guitar issuesm for the main part they had a great sounding set. With people in the crowd singing along, the set kicked off this stage well and set the vibe for the acts that were soon to follow. [JA]
MARMOZETS – 9/10
Barely hitting their 20s, Marmozets certainley have a form of youthful spirit within their set, though driving it comes instrumental technicality and song craftmanship way beyond their years. Running about both on and off stage with more energy than an ADHD toddler on a binge of Red Bull and Skittles, the Macintyre and Bottomley siblings are a bold and dashing attack of math/post-hardcore/awesome. 'The Perfect Beverage' and '9/10/11 – 12:13' stick out as true highlights of their set. [ZR]
MAKE DO AND MEND – 7/10
These guys have slowly started to make waves over here in the past year, picking up plenty of attention and rightly so too. Their set is packed full of energy and they create a brilliant live sound too. With plenty of people singing along and with new song 'Lucky' off their forthcoming sophomore album, their set proved they're an act to be watching out for in the future. [JA]
SHARKS
Sadly, we were unable to catch their set. Sorry.
RANDOM HAND – 8/10
Ska punk/metal lot Random Hand gather themselves a very energetic crowd, who filled the room with circle pits and skanking. Frontman Robin Leitch put plenty of energy in moving about whilst both singing and playing the trombone, and also sending himself into the crowd via the surfing method. All of this mixed in with great presence and brilliant sound/playing made for a very enjoyable set for those there. [JA]
DON BROCO – 7/10
Getting ever so popular as the weeks go by, Don Broco might be like what you'd find if Nuts were to form a great alternative rock band. Recent single 'Priorities' obviously gets the crowd bouncing and singing along, and every time they pull it out it seems they're making their new trademark dancemove 'the walk' more popular each time they do it. Maybe not as reknowned as the macarena, but it's on its way. [ZR]
SET YOUR GOALS
Sadly, we were unable to catch their set. Sorry.
CAPDOWN – 9/10
For a band that classes themselves as 'not really a band anymore', they're still around for quite a lot to see. Drawing a decent crowd out to watch them today, they've got plenty of people skanking along to their set and watch them still play with more flair and energy than most active bands around these days. If you've never had the chance to catch Capdown, make sure you do soon before they call it a day completely. [JA]
GALLOWS – 8/10
Despite undergowing a lot of heavy fire in the verbal department since the frontman transition of Frank Carter to ex-Alexisonfire member Wade Macneil, punk rockers Gallows in contrast to this have plenty of believers – the packed-out room at the Vans Off The Wall stage is proof enough of that. It's undeniable that there is a definite change of vibe and presence with Wade now at the microphone, but by no means is it any worse than when Frank was in his place, it's simply just different. Wade jumps into the crowd to get energy levels at an all time high, and the punk ethos is in fact stronger than it's been for a while through the likes of 'Misery' and 'In The Belly Of A Shark'. Those who dismiss them on this fact alone without seeing or listening to Gallows v2.0 are making a huge mistake. [ZR]
---
RED BULL BEDROOM JAM STAGE
STRANGLE KOJAK – 6/10
Though it's clear the nerves might be getting to the opening act of the Red Bull Bedroom Jam and indeed the first band to play during the entire festival, Birmingham's Strangle Kojak set the tone and open up Slam Dunk in true style. Their pop-rock melodies are catchy as hell, boasting chorus hooks in their arsenal such as that of new single 'Afterparty', which sticks in your head like chewing gum sticks to favourite jeans. Newbies to watch, for sure. [ZR]
MECHANICAL SMILE – 6/10
Scottish alternative rockers Mechanical Smile add a very different vibe into the RBBJ tent/stage, delivering a somewhat heavy but also ethereal element into proceedings. 'Take Me To The Otherside' gets a few people in the crowd moving and bobbing their head along, but for the most part this set seems to be a chance for the band to pull in some new fans. Chance well taken. [ZR]
ADELAIDE
Sadly, we were unable to catch their set. Sorry.
DEAD HARTS
Sadly, we were unable to catch their set. Sorry.
ACODA
Sadly, we were unable to catch their set. Sorry.
IT BOYS! – 4/10
With choreographed dance moves, synth parts up the arse and a dollop of auto-tune, it was a bit of a shock to the system wondering what a full on pop band was doing in the middle of a punk/hardcore festival. The people who turned out to see it seemed to enjoy it, but this really was hitting a very niche audience here, at least at this festival. [JA]
CANTERBURY
Sadly, we were unable to catch their set. Sorry.
THE AUDITION
Sadly, we were unable to catch their set. Sorry.
CARTEL
Sadly, we were unable to catch their set. Sorry.
FOREVER THE SICKEST KIDS
Sadly, we were unable to catch their set. Sorry.
MAYDAY PARADE
Sadly, we were unable to catch their set. Sorry.
---
MACBETH
OUR TIME DOWN HERE
Sadly, we were unable to catch their set. Sorry.
MISSER
Sadly, we were unable to catch their set. Sorry.
HEARTSOUNDS
Sadly, we were unable to catch their set. Sorry.
NO TRIGGER
Sadly, we were unable to catch their set. Sorry.
DECADE – 7/10
Still just young guns on the British pop-punk circuit, Decade over time have slowly began maturing and budding into a band that can hold their own against the big boys. Touring alongside peers such as Hit The Lights has clearly rubbed off on them, and the reception of fans clawing their way towards frontman Alex Sears is proof their hard work has paid off. 'Home Alone' (a song about wanking, apparently) and 'Down Like A Clown, Charlie Brown' have an extra spark and kick to them, and new album offering 'Thursday' shows signs of a band who have truly developed a skin of their own. [ZR]
SAVE YOUR BREATH
Sadly, we were unable to catch their set. Sorry.
THE STORY SO FAR – 7/10
When it comes to the pop-punk offerings Slam Dunk has brought to the plate this year, it's clear The Story So Far are easily one of the most loved. Though they're not jumping face first into the adoring crowd at every opportunity, the crowd reaction to this band alone is something worth noting. Singing back almost every single word to every song, shining strongest in the closing moments of 'Quicksand' ("I'm trying hard / Real hard / Every day not to lose my temper"), TSSF are a pop-punk band worthy of the buzz.
TRANSIT
Sadly, we were unable to catch their set. Sorry.
HIT THE LIGHTS
Sadly, we were unable to catch their set. Sorry.
---
SINSTAR BAR
OLI BRIERLEY
Sadly, we were unable to catch their set. Sorry.
TOM MAHON
Sadly, we were unable to catch their set. Sorry.
LOZ CONTRERAS
Sadly, we were unable to catch their set. Sorry.
G SCRATCH
Sadly, we were unable to catch their set. Sorry.
MC LARS – 7/10
Returning for the second year in a row, this time with Failsafe as the backing band, MC Lars was here to entertain. Unfortunately the set was plagued with sound problems, the microphones producing nearly unbearable feedback constantly for the first couple of songs before cutting out all together threw the set out of sync a bit. Once sorted however, it went a bit more smoothly, though by this point several people had bailed. Lars as always had good presence even in the face of technology going completely up the duff and tried us best to compensate for lack of good sound as best as possible. Overall, a good set, but the beginning sound problems ruined it for some people. [JA]
HADOUKEN! (DJ SET)
Sadly, we were unable to catch their set. Sorry.
---
PUNKTASTIC ACOUSTIC STAGE
Sadly, we were unable to catch any sets performed on this stage. Sorry.
Written by Zach Redrup [ZR] and Jon Andrews [JA]
Founder & Editor for DEAD PRESS!