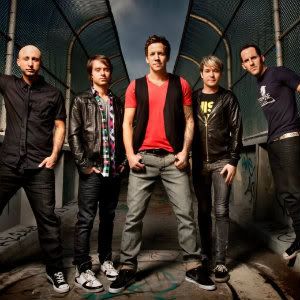 Date: May 2nd, 2012
Venue: HMV Ritz, Manchester
Support: We The Kings
Website: www.simpleplan.com
Facebook: www.facebook.com/simpleplan
Twitter: www.twitter.com/simpleplan
Rating:


Part of the pop-punk ethos is to just feel young, be all energetic and basically just have a good time. With a decade gone since the release of their debut album, 'No Pads, No Helmets… Just Balls', Canada's Simple Plan have undoubtedly maintained this image with great success, with the band still maintaining their original line-up since they formed in 1999. Though maybe not at their peak anymore, the sold out dates throughout this tour are evidence enough of their dedicated fanbase.
Standing as the sole support act for the night – and the whole UK tour for that matter – We The Kings (***) bring the cheery pop-punk thick and fast from the get go. Frontman Travis Clark even plays through the set bare-footed, bouncing along song after song with the crowd. Though their pop-punk efforts were undoubtfully upbeat and got people moving and singing along, one problem WTK face is a set that lacks character throughout. Still, 'Check Yes Juliet' is a sign there's potential within this bunch.
It's abundantly obvious though that Simple Plan (****) are without a doubt the reason everyone is in this room tonight, and straight away they deliver with a strike of nostaligia with 'Shut Up'. From there on their simplistic yet oh so enjoyable back-catalogue is delivered by a band who've clearly got more than their fair share of experience behind them. Their cheeky medley of pop chart hits 'Moves Like Jagger' (Maroon 5), 'Dynamite' (Taio Cruz) and 'Sexy And I Know It' (LMFAO) smacks a smile on everyone in attendence, even the few slightly older members in the crowd.
Their display of other more serious sides than just fun-and-games-and-yay gives a nice change of pace too. 'Astronaught' gets the roomed lit up with everyone's mobile phone torches and lighters waving about in the air, and the massively relatable 'This Song Saved My Life' sends shivers throughout the room that makes the hairs stand up straight off the skin. It is, of course, their more trademark pop-punk by the numbers hits such as 'I'd Do Anything' and 'Addicted' which gets the biggest cheers and brings to light that though Simple Plan may not be at the top of the pop-punk game today, they're still masters of the trade.
Written by Zach Redrup