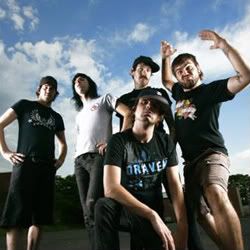 Date: March 22nd, 2011
Venue: O2 Islington Academy, London
Support: There For Tomorrow, While She Sleeps
Website: www.silversteinmusic.com
MySpace: www.myspace.com/silverstein
Rating:


Silverstein have been around for about a decade now, and are masters (and one of the original members) of the post-hardcore genre. This is not their first time over in England, nor is it their first time playing this particular venue; so to see about 200 people queuing outside the venue at doors is a rather disappointing sight indeed.
What's even more disappointing is the lack of enthusiasm that meets one of the buzz bands of the moment; Sheffield mob While She Sleeps (****) whose brand of in your face metalcore doesn't go down to well amongst the assembled few dotted around the venue. Those who have come to see the band (and there are a couple) are treated to a fantastic set made up of songs off their mini-album 'The North Stands For Nothing', and rousing closer 'Crows' causes frontman Lawrence Taylor to almost collapse on stage.
Continuing on the theme of disappointment are the Floridians; There For Tomorrow (**). Their set of power pop fused with chart seeking rock falls miserably short of any bar that they have set themselves on record. Their crowd reaction is limited, despite it being apparent that there are many people here to see them. Whilst they play a mix of new and old songs, it's clear that their older songs have been watered down so that all the kick has been taken out of them, and even the usually brilliant set closer 'A Little Faster' seems off key and unenjoyable.
It's up to Silverstein (*****) to break the trend of disappointment then, and they most certainly do that. They burst onto the stage and rip into a pulsating one-two of 'I Am The Arsonist' and 'Sacrifice'. Their set is a crowd pleasing one; mixing old material like the ferocious 'Your Sword Vs. My Dagger' with newer cuts such as 'The Artist'. It's no surprise, considering the length of time they have been around, that Silverstein put on one hell of a show, with perfectly timed instrumentation to the pitch perfect roar of vocalist Shane Told.
Six years on from its release, 'My Heroine' is the type of song that still has the ability to stir a crowd and get them all singing along; and when it is performed as brilliantly as Told does on the acoustic guitar, it's a sight to behold. Rabble rousing set closer 'Bleeds No More' is equally as brilliant, and allows for a perfect ending. After making a promise to come back soon, based on this performance, it will not be a minute too late.
Written by Oliver Thompson
Founder & Editor for DEAD PRESS!