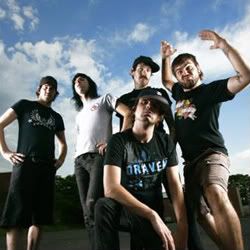 Date: November 26th, 2007
Venue: Academy 3, Manchester
Support: The Vincent Black Shadow, blessthefall
Website: www.silversteinmusic.com
MySpace: www.myspace.com/silverstein
Rating:

A band like Silverstein are one that aren't regular visitors to the UK, and only pop around perhaps once a year, twice if you're lucky. Upon the release of their latest full-length album 'Arrivals & Departures' they return to Europe for a long-awaited tour. The question is: was it worth the wait? On November 26th 2007 they arrive to give Manchester a shot with their post-hardcore music, accompanied with two support acts, who have never even entered the UK with band business.
The first band on the bill are The Vincent Black Shadow (**) who seem to be barely known with tonight's crowd. Never heard of them? Well, the best way to describe them would be No Doubt, with a slight metal edge, and a lot less charisma and emotion within their performance. Besides guitarist Rob Kirkham, the band appear – for lack of a nicer word – bored. A little bit more activity and movement within their performance would have made all the difference, with their music not being the most terrible thing in the world at all. A few people in the front of the crowd are really getting into this band, but for the most part of the venue people are waiting to be entertained. The end of their set brings another downside to the band too. After about 25 minutes full of taunts from a small group from the audience, bassist Chris Kirkham spits at a member of the audience. Not the most grown-up decision, and could have been taken a lot more maturely no matter how annoying a member of the audience is.
Once they clear up, it's time to up the ante with the second support band for Silverstein. On their first UK/European tour, and therefore their first ever visit to Manchester, blessthefall (****) are welcomed to the stage with more than open arms. The crowd open up a mosh pit before the band even play a single note, chord, or sing a single lyric. Opener 'Guys Like You Make Us Look Bad' is only a small sample of what the band have in store for the audience, and the crowd sing back almost every word of the song, and once the breakdown approaches the mosh pit goes insane – and that's to put it mildly. Throughout their 45 minute set, blessthefall have the crowd pumped and going all night long, with songs including 'Could Tell A Love', 'A Message To The Unknown', and a UK album exclusive song 'I Wouldn't Quit If Everyone Quit'. Stage acts are plentiful, with much stagediving and crowdsurfing from both band members and the audience. blessthefall have made a good first impression in Manchester.
Taking to the stage with an audio clip intro, Silverstein (***) blast into their set like a man on fire. An evening consisting mainly of songs from their new album 'Arrivals & Departures' Silverstein give an active and exciting show all night. Not quite as friendly as the previous band, frontman Shane Told occasionally pushes one of their fans off the stage before their ready to crowd surf. Still, they play a good show, playing some oldies like 'Defend You' and 'Smashed Into Pieces', they get a great reaction from the crowd who've clearly been eagerly awaiting the return of this Canadian band. Sadly, they don't quite top support act blessthefall, but this is mainly based upon their activities on stage as opposed to the quality of their music and sound; their blend of melodic vocals and guttaral yells are far from awful. It's probably one night where they're just a little off, but Silverstein are definitely an act you should look into watching either way. Just make sure you don't miss out while they're still here, or you could be waiting longer than you hope to.
Written by Zach Redrup