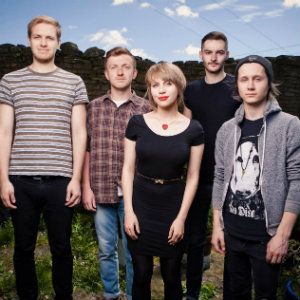 Date: October 27th, 2012
Venue: The Deaf Institute, Manchester
Support: Goodtime Boys / Oathbreaker
Website: www.rolotomassiband.com
Facebook: www.facebook.com/rolotomassiofficial
Twitter: www.twitter.com/rolotomassiband
Rating:

It goes without saying that Rolo Tomassi are far from an easily accessible band. Their amalgamation of different sounds, genres, time signatures and general disfigurment of musical conventions really shouldn't work together, yet somehow it really does. We're now just over a week from the band's third full-length 'Astraea' hits public ears, and it seems interest is far from lost at Manchester's The Deaf Institute.
Along on the tour, openers Goodtime Boys (****) are certainley an energetic bunch and, thanks mainly to the aid of frontman Alexander Pennie, the band's set is definitely as much of a visual performance as it is a show. Throughout, it's clear the words he speaks are far more than just song lyrics to him, but more of a release of demons. Indeed, it seems we're watching a live exorcism alongside a hardcore show. A truly exceptional live act.
What looks like a bunch of misfits make up following act Oathbreaker (***), with what looks like a hardcore kid for a drummer, a metalhead for a bassist, an indie kid on guitar and a hipster frontwoman. A few mere seconds into their set however, and it's clear these guys are a force to be recokened with. Even despite momentary bass issues midset, the Belgian quintet plough on regardless with a sludgey bludgeon of menacing sounds. Vocalist Caro Tanghe, who often has her face masked by her hair like Samara Morgan, is yet another example that female vocalists can perform harsh vocals just as well as men. Take that misogyny.
It's headliners Rolo Tomassi (****) however that everyone is really here to see, and rightfully so. Starting things up with the first two tracks from their yet to be released album, 'Howl' and 'Ex Luna Scientia', is a risky move for any band. Thankfully, this pays off, displaying the rather more melodic and concise direction their new album carries. Of course, it's the staple favourites that get the strongest reactions. 'I Love Turbulence' sees the first true pits of the night, but those that are made throughout 'Party Wounds' dwarf them.
It's clear Rolo Tomassi have grown, matured and strengthened from their early years. Everything sounds much tighter and into formation, siblings Eva Spence and James Spence trade off vocals through some songs in great unison, such as the punk-y 'Old Mystics', and it finally seems like Eva has managed to grasp and shine with her usually timid and floaty cleans.
Trust me when I say, the next year or so for the band following the release of 'Astraea' next week could see Rolo Tomassi finally take full form into something spectacular. Only time will tell.
Written by Zach Redrup