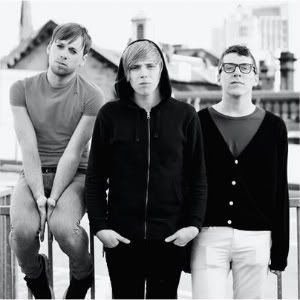 Date: March 3rd, 2011
Venue: Sound Control, Manchester
Support: The Xcerts, Dinosaur Pile-Up, Japanese Voyeurs, Scumface
Website: www.thexcertsband.com
MySpace: www.myspace.com/thexcerts
Rating:


Taking a selection of three of their upcoming hotly-tipped bands for the year, Rock Sound's first ever Exposure Tour sees a rotating headline spot tour with Japanese Voyeurs, Dinosaur Pile-Up and The Xcerts. Performing in that respective order at their Manchester stop of the tour, the demand to catch these upcoming British acts bunks up their performance originally at The Roadhouse up to Sound Control instead.
Opening however are local hardcore punk trio Scumface (*), whose songs on average literally last about 5 seconds and subjects revolved around the most pointless things you could think of. The intended comedic side of it all lasts about four tracks in, so about 20 seconds, before song titles and lyrics like 'Brick In The Face', 'Nine Pies', 'Mouth Full Of Bees' and 'House Phone's Ringing Whilst You're Having A Shit' soon become about as fun as chewing on glass.
Some actual musical talent shines through however when Japanese Voyeurs (***) take to the stage. Their gritty, sludgy rock slapped alongside the high-pitched and eerie vocals of front woman Romily Alice make them sound like a No Doubt equipped with balls and attitude. Their cover of Nine Inch Nails' single 'Closer' though not terrible didn't quite match up to par with its original counterpart, though their own 'Smother Me' and 'Dumb' show promise that their forthcoming debut 'Yolk' has potential when it finally surfaces.
Grunge tinged rockers Dinosaur Pile-Up (****) however host a little more energy in their set, especially within bassist Harry Johns who jumps about the stage, and even accidently knocks over one of Mike Sheils' cymbals during 'Barceloner'. New song 'Should' sees the band continuing on with their style without any desire for change, whereas set closer 'Traynor' sees the band at their hardest and heaviest, with Harry Johns and front man Matt Sheilds clashing together and dropping their instruments to the stage floor before walking off.
Scottish three-piece The Xcerts (****) sound much bigger and louder live than they ever do on record. Though keeping relatively short and quiet on the mid-song banter and chat throughout, songs like 'Scatterbrain', 'He Sinks, He Sleeps' and 'Gum' sound volatile and explosive, and the in some moments front man Murray Macleod looks genuinely taken over and flowing with the music. This statement couldn't be more true than during their set closer 'Hurt With Me', which sees Murray throwing himself around the stage floor thrashing at his guitar, before in the song's final moments setting it down with distortion and ambience ringing, whilst wailing "hurt with me" from the top of his lungs down the microphone.
Written by Zach Redrup