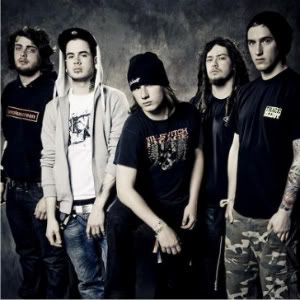 Date: September 25th, 2011
Venue: The Roadhouse, Manchester
Support: The Howling, The Safety Fire, Bleed From Within
Website: www.risetoremain.com
MySpace: www.myspace.com/risetoremain
Rating:


Having a father with the reputation that Iron Maiden vocalist Bruce Dickinson holds brings its fair share of both pros and cons, especially if you decided to go and start a band of your own. Austin Dickinson has some footsteps to follow in along with the rest of Rise To Remain, but with their recent debut 'City Of Vultures' entering at #83 in the UK Top 100 albums (and #10 in India, strangely) they've started well. Their headline tour following the release will show if they can hold up the material in a live setting though.
Sadly, due to silly train activity on a Sunday we weren't able to make it to catch The Howling's set. However, we did manage to get there just as The Safety Fire (***) took to the stage. The London quintet swiftly switch between moments of frantic and furiousness straight to more alt. rock tipping towards indie, showing strong similarities to The Arusha Accord. Unlike said comparison however, TSF haven't quite managed to master these transitions, but as a young band this will only be fixed naturally as they grow and develop.
Scottish metal tour de force Bleed From Within (****) are easily the heaviest band on the bill. Frontman Scott Kennedy delivers some of the most blood boiling growls than many of their scene's peers, and his screams are more than capable than entering the realms that removes their human qualities, all whilst guitarist Craig 'Goonzi' Gowans and bassist Davie Provan create windmills of hair that don't come through The Roadhouse too often. Despite being a band still within their infancy stages, BFW are with one EP and two albums under their belt with a third in the works. This band deserve bigger things sooner rather than later.
The bar has been set high for the night's headliners Rise To Remain (****), yet they manage to match it on their own terms. Though clearly not half as heavy as their main support act, their more melodic input into the metal genre is one that they do well. Straight from opener 'The Serpent', RTR have the crowd in the palm of their hand, who provide mosh pit after circle pit, and at one point a circle of death too. 'City Of Vultures' proves a highlight of the evening too, a song claim they saved exclusively for the Manchester date of the tour. By the final moments of set closer 'Bridges Will Burn', half of the crowd are exhausted and drenched with sweat, and RTR can leave content in knowing that they didn't let the Manchester crowd down.
Written by Zach Redrup