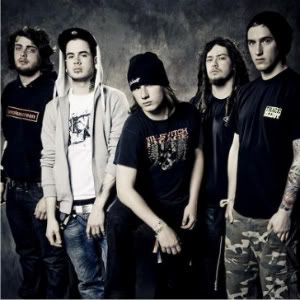 Date: March 14th, 2012
Venue: Academy 3, Manchester
Support: Malefice, Adept, Heaven Shall Burn
Website: www.risetoremain.com
Facebook: www.facebook.com/risetoremain
Twitter: www.twitter.com/risetoremain
Rating:


Since the release of their debut album 'City Of Vultures' towards the end of last year, London metalcore mob Rise To Remain have been a fairly busy bunch, and sadly even recently suffered from the loss of two members leaving the band to pursue other things in their lives. However, a few months later they're back on the road, new members equipped and ready to pick up where they left off since their last UK tour.
Reading's Malefice (****) are the only British supporting band on the tour, and manage to set the bar pretty high for the three bands which are to follow. Their precision and power from start-to-finish is formidable and leaves thoughts in the mind to question why they're so low on the bill. Regardless, the metal outfit hold their own, with songs such as 'Awaken The Tides' standing as strong highlights for the evening.
Coming over from as far as Sweden, Adept (**) don't manage to bring along the same level of punch as the evening's predecessors. Intertwining their sound between melodic metalcore to post-hardcore throughout, it's hard to get a full feel of the band and really get into their set.
The crush returns once again however, delivered by Heaven Shall Burn (***). Throughout their set, their generic yet undeniably crushing metalcore sets energy levels sky high, inciting circle pit after mosh pit after crowd surf. Continuing evidence that the vast majority of Germany's exports have got everything that should come along in the genre of metal down tight.
Still, Rise To Remain (****) manage to come along and snatch up what's left of the crowd and push them to their upmost limits. Vocalist Austin Dickinson is a friendly and engaging frontman, always convincing the crowd to deliver more and more throughout the night. 'The Serpent' showcases the band's melodic metalcore at its most worthy, and it's clear that newest recruits Josh Hammond and Adam Lewin have slotted into the line-up nicely. 'Nothing Left' brings out the strongest chorus from the crowd, who sing back almost every word like it they recited it on a daily basis.
Every band has their set backs throughout their career, Rise To Remain included. However, it's those who get back up, dust off their shoulders and press on that stand the chance of a impressive career, and that's just what Rise To Remain could have soon.
Written by Zach Redrup