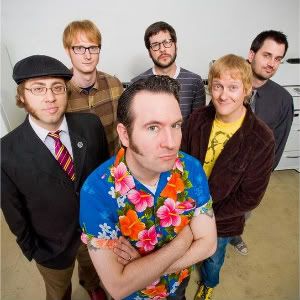 Date: February 6th, 2012
Venue: Princess Pavilion, Falmouth
Support: JB Conspiracy, Orange
Website: www.reel-big-fish.com
Facebook: www.facebook.com/reelbigfish
Twitter: www.twitter.com/reelbigfish
Rating:

Falmouth isn't a place where you'd expect to find one of the biggest ska punk bands in the world, but here they are and apparently they're no less popular in Cornwall than they are anywhere else. The Princess Pavilion stop on the tour is sold out to a multitude of colourful looking and surprisingly attractive punters. Reel Big Fish are the sort of band that makes all the casual fans come out from the woodwork for their one gig of the year so gig etiquette is lost a bit, but that just adds to the atmosphere.
The JB Conspiracy (****) open up to a modest crowd with their Reel Big Fish imitation ska punk sound. They boast an impressive arsenal of musicians including a trumpeteer, a trombonist and two saxophonists (one of which plays keyboard at the same time). Dreamy frontman Lank directs his banter mainly towards the small gathering of females to the right of the stage (gotta get some 'tang, right?), but successfully starts a singalong of "We wait for this moment to arrive" for a song whose title fails me. They finish with an upbeat song and appear to have gained a few fans from the experience.
Slightly out of place are Orange (**), who lack the brass section and look like a cross between Green Day and My Chemical Romance. Vocalist/bassist Joe Dexter manages to get some reaction from the crowd, but their apparent lack of enjoyment rubs off somewhat on the more skeptical fans. Nonetheless, they play some catchy songs and finish with a cover of The Beatles' 'Help'. They're not bad by any stretch of the imagination, they just don't get the crowd moving like The JB Conspiracy did.
For Reel Big Fish (*****), the hall starts to reach near bursting point as people pile in. From the first chords of 'Everything Sucks', it becomes clear that standing still at this gig is not gonna be an option. It's physically impossible to not move your feet as they cavort through a set of classics, including 'She Has A Girlfriend Now', 'Good Thing' and 'Beer'. They also throw in some lesser known songs, like 'Your Guts (I Hate 'Em)', 'The Set Up' and the fantastic 'S.R. (The Many Versions Of)'. The latter showcases RBF's considerable talent as they move through the genres, playing in a punk style, a disco style and even a death metal style (to which Aaron exclaims "Thank you, we're Slipknot!"). He also doesn't forget to remind us after each version that the next song will be THE SAME SONG. As they near the 20 song mark, they depart with an encore of 'Sell Out' and, of course, 'Take On Me'. Safe to say, Reel Big Fish have still got it.
Written by Martin Savage