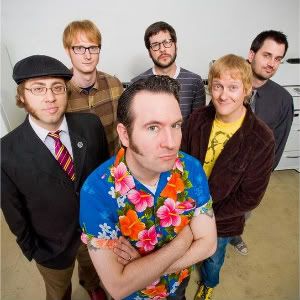 Date: February 27th, 2013
Venue: HMV Ritz, Manchester
Support: Magnus Puto / Suburban Legends
Website: www.reel-big-fish.com
Facebook: www.facebook.com/reelbigfish
Twitter: www.twitter.com/reelbigfish
Rating:


Every February for the last four years I have gone to see Reel Big Fish, and each time I have left with a spring in my step and a gay little smile on my face. The reason being is that RBF always put on a spectacular show. This time they're back in the UK to promote their latest album, 'Candy Coated Fury' and, while the album is pretty much the same as everything else they have done, why change something that is perfect?
Opening for such a well-established band is always a daunting task, but Magnus Puto (****) pull it off with style. Looking rather dapper with their shoes and shirts, these Bristol boys delight the crowd with their brand of hip-hop ska fusion. Though the crowd was notably stationary at first, once Magnus found their flow the whole room was shuffling away. They were, however, notably lacking in a brass section, but they made up for it by boasting guitar riffs skankier than the cast of Geordie Shore. An excellent opening set from a promising young band.
If you have seen Reel Big Fish before, there's quite a high chance that you will have also seen Suburban Legends (*****) and there's a bloody good reason for that. For every fun filled second of their set, these Californian punk rockers are dancing away like there's no tomorrow. The crowd simply adore their happy lyrics and bouncy songs, and don't stop moving throughout their set. The most memorable of all is when they cover 'I Just Can't Wait To Be King' from Disney's The Lion King, to which everyone was belting out the words, myself included. In fact, my throat still hurts as I write this.
As the lights go down, the Superman theme song blasts from the speakers, setting the scene for Reel Big Fish (*****) to make one hell of an entrance. For a full 20+ song set, the band have the whole room skanking and singing away. Given that they have well over 150 songs in their back catalogue, it's hard to choose which songs to sacrifice for the newer ones, but they choose well and showcase some of their newer hate-filled songs, such as 'Everyone Else Is An Asshole' and 'P.S. I Hate You', whilst leaving in the staple set songs such as 'Beer' and 'Sell Out'. Of course, what would a RBF show be without a cheeky cover or two and, in tonight's case, it comes in the form of Carly Rae Jepsen's 'Call Me Maybe'.
Though, yes, RBF have put on better shows in the past and yes, they may be looking a little long in the tooth, there's no denying that these guys know how to put on a spectacular show. Their sheer talent and energy they bring to the stage can only be matched be a handful of bands, most of which are still young and energetic. One thing that I admire about RBF is their consistency and how it's damn near impossible for them to put on a bad show. If you missed this gig, you're a fool but no matter, because I guarantee you they'll be back next February to put on an equally awesome show.
Written by Andy Roberts