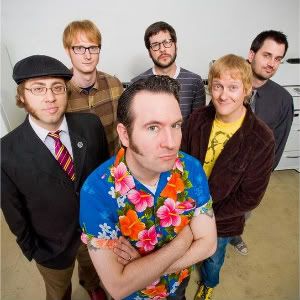 Date: February 23rd, 2011
Venue: Academy 2, Manchester
Support: New Riot, The Skints, Suburban Legends
Website: www.reel-big-fish.com
MySpace: www.myspace.com/reelbigfish
Rating:


Many years on the scene has made ska punk act Reel Big Fish a well respected name within the genre. Many albums under their belt, a strong and constant fanbase and a huge collection of brilliant, catchy and feel-good tunes are all in great aid of this, and the fact their still touring relentless to this day shows there's no end for the band in sight yet.
When opening a gig, the first act on often struggles to get the crowd to do anything more than clap their hands and nod along. But like the main act themselves to follow shortly, New Riot (****) instantly have the crowd dancing along to their incredibly catchy songs. They have little time to play, so they pack their set with as many songs as they can whilst effortlessly stirring up the crowd. So much so that even the moody couples at the back are dancing to their infectious sound.
The evening's antics are put on hold while The Skints (***) take to the stage. It's rare that a support band can get away with just playing their music, but with The Skints it's justified; their songs have the crowd grooving to the relaxed, layed back sound on offer. Despite being phenomenally talented, with Marcia Richards playing a whole range of instruments from the sax to the meldoica, their mellow sound may not really be suited for such a hyperactive evening.
Within 5 minutes of Suburban Legends set (*****) you will almost forget that you're actually there to see Reel Big Fish. Their performance is so clean cut and well executed you would think they were miming, and along with all their dancing and jumping you just can't help but get caught up in the moment with them. To cap it all off, the final two songs of the set consisted of an incredible cover of 'Hide Your Kids, Hide Your Wife' and Lion King famed song 'Can't Wait To Be King'.
Reel Big Fish (****) take the stage and the crowd goes absolutely nuts, despite opening with 'Sell Out' and 'Everything Sucks' the set gets off to a slower start than expected. Yet within 10 minutes, they're back on their unbelievable form, dishing out the classics like some luxurious desert, the crowd is forever dancing to covers such as 'Brown Eyed Girl' and 'Kiss Me Deadly'. They also did the many versions of 'S.R.' routine which surely shows just how talented this band really are. On the whole, after years of touring, you would think Reel Big Fish are going through the motions, but they really aren't. They play with a genuine smile on their face and sparkle in their eye, which is a very hard thing to come by nowadays.
Written by Andy Roberts