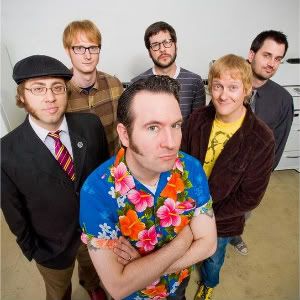 Date: February 2nd, 2012
Venue: Academy 2, Manchester
Support: JB Conspiracy, Orange
Website: www.reel-big-fish.com
Facebook: www.facebook.com/reelbigfish
Twitter: www.twitter.com/reelbigfish
Rating:

It's that time of year again folks: Reel Big Fish are back in town. Leaving behind the warm California sun to brave the harsh British winter yet again, I hope they know that we really appreciate it. They are renowned for bringing over some amazing support bands, such as Big D And The Kids Table and Suburban Legends, so there are a lot of ska-punk fans eager to see who they brought this time around.
Up first are Guilford's answer to Streetlight Manifesto, the legendary and stupidly talented JB Conspiracy (****). These guys have been on the scene for a while now, and it's about bloody time they got a big break and some exposure like this. They are nothing short of phenomenal, the 7-peice work so well together, blasting out spectacular tunes throughout their set with no lull. NO LULL! Not to mention, they had people dancing from the off, an impressive feat considering these guys were first on the bill. Definitely one to check out if you're a fan of the ska-punk scene.
Stepping up to the plate are pop-punk go-getters Orange (**). Now, Reel Big Fish seem to have dropped the ball somewhat when they asked these guys to come along. They're not a bad band per say, but they don't live up to the high support expectations of a Reel Big Fish gig. Although, they were dressed for the part, each donning some sort of whacky attire, their music just wasn't up to par and lacked in spark and gusto. The set as a whole was kind of boring, and that fact the vocals were either dull or way off doesn't really help matters. However, they ended on a pretty good cover of The Beatles' 'Help', which seemed to wake people up a little before they left.
Nevermind though, we don't have to wait long before the almighty Reel Big Fish (****) take to the stage. Marching on stage to the appropriate Superman theme, then start their mammoth 24 song set with my personal favourite, 'Everything Sucks'. Now, I have seen RBF a lot, so I can safely say that their set hasn't changed much over the last few years, but why should it? They have tailored it to perfection, knowing exactly when to get the crowd dancing ('241') or the get them screaming their lungs out ('Suckers'). With RBF, not only do they play the best of their back catalogue, but also some other incredible songs that you should know, such as 'Kiss Me Deadly' and 'Monkey Man'.
Overall, Reel Big Fish never fail to put on an incredible show, leaving you with a spring in your step and a severely sore throat. However, I can't help but feel that years of touring have started to catch up with them and that they don't seem to have the immense stage presence they once had. Don't get me wrong, they are still one of the best live bands around and I love seeing them, but maybe they should tour the UK every other year. I think it may just be a case of less is more. Never the less, next time they are here (and there WILL be a next time) go see them, I guarantee it will be one of the best gigs you will ever attend.
Written by Andy Roberts