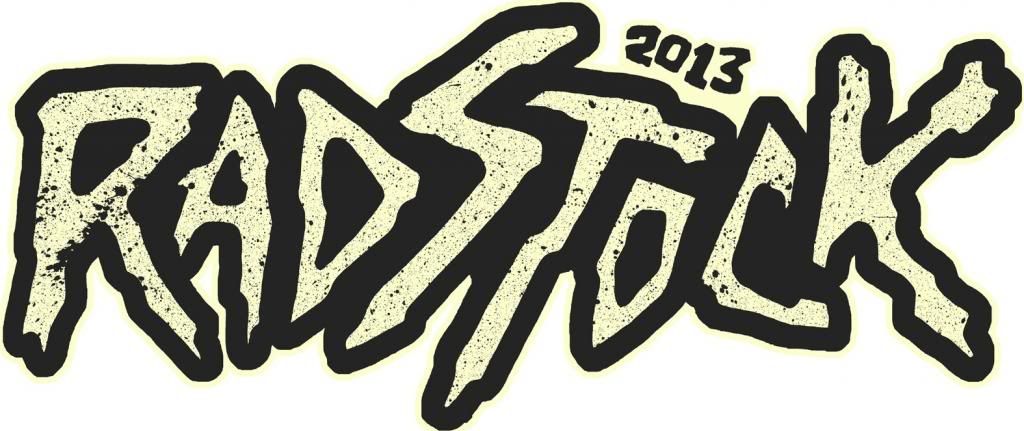 Date: March 30th, 2013
Venue: O2 Academy, Liverpool
Website: www.radstockfestival.co.uk
Facebook: www.facebook.com/radstockfest
Twitter: www.twitter.com/radstockfest
Rating:

Gallery: click here!
With its debut year about to take play, Liverpool's Radstock Festival is pretty much the first music festival of the year. What makes it a special one however is that almost every single band (with one or two exceptions) featured on the line-up is British, a rarity nowadays. Spread across three stages, we had to catch what could well be the beginning of a long lasting festival to come.
---
MONSTER ENERGY STAGE
NATIVES – 8/10
The New Forest pop-punks seem to have been around forever, despite playing shows as Natives for just one year, and are quickly becoming the go to band to grace the main stage at these one day indoor festivals. Opening track 'Big Plans' gives Radstock's main room its first high pitched screams of the day and the crowd are given more to keep them happy with the band's now trademark polaroid give-away. The ex-Not Advised lot really do have an impressive following without having a major release and, by the sounds of today, they have plenty of huge tracks just waiting to be unleashed. [MH]
SONIC BOOM SIX – 9/10
Somewhat out of place compared to the rest of the Monster Energy stage, the Northern punks have never been ones to be tied down by labels and genres. Sonic Boom Six can always be counted on to deliver an exciting show and today is no different. Laila Khan and Barney Boom are more like bouncy balls on the stage as they spurt out big tracks 'Karma Is A Bitch' and 'Piggy In The Middle', as well as a new cover of The Streets and a cheeky snippet of Limp Bizkit classic, 'Rollin'. The band get a big deserved pogo of approval from the crowd and are already a highlight of the day. [MH]
THE RED JUMPSUIT APPARATUS – 6/10
The only American band to crash this British party draw in what is arguably the biggest crowd at Radstock today, with most of the ticket holders eager to see the Florida rockers. Although not as popular as they were 6 years ago, Ronnie Winter is a superb frontman and treats the fans to old favourites 'In Fate's Hands' and 'Your Guardian Angel'. The new material may seem like filler between the older tracks, but there are no surprises when the finale of 'Face Down' causes an earthquake of a sing-a-long and leaves smiles from front to back. [MH]
YASHIN – 6/10
Five-part Scottish and one-part American unit Yashin are definitely one of the more anticipated bands on the roster, at least if you take into account the amount of people wearing their merch. Though bouncy throughout with hits like 'New Year Or New York', their toned down version of 'Stand Up' shines strongest. Admittedly, their take on Linkin Park's own 'One Step Closer' seems a bit of a rip-off, but the sextet claw it back with explosive closer, 'Runaway Train'. [ZR]
DON BROCO – 8/10
The rise of Bedford lads Don Broco has been astonishing over the last year, with the massive reaction to their debut full-length 'Priorities' and their fun have-it-large attitude. Bobby D leads the boys effortlessly through big anthems from the new album and even has time to fit in classics 'Beautiful Morning' and 'Thug Workout' between gender specific sing-a-longs and their push-up squad Wall of Death before closer 'Fancy Dress' makes the crowd erupt with madness. The Broco train isn't stopping any time soon, so catch them in a small-ish venue while you still have the chance. [MH]
WE ARE THE OCEAN – 9/10
If losing your lead singer doesn't slow your band down then you know you're onto a winner. Liam Cromby now proudly stands centre stage and his vocals are as passionate as ever; it's rare for a band to have such a top quality voice as his and he knows how to use it perfectly. The set naturally features most of latest album, 'Maybe Today, Maybe Tomorrow', but the re-imagining of 'Now And Then' and 'The Waiting Room' have the room really shaking. It won't be long before people stop talking about the old days with Dan Brown and start appreciating what We Are The Ocean have to offer right now. [MH]
THE BLACKOUT – 9/10
When The Blackout are good, they're really fucking good. Tonight is a masterclass from the band who really do know how to keep the crowd dancing, head banging and screaming their lungs out even after 10 hours on their feet in Liverpool's O2 academy. The Welsh masters fly through hit after hit from their back catalogue, from the ever present 'Children Of The Night' to brand new single 'Radio', with the only interruptions along the way being a pre-planned wedding proposal and Gavin Butler and Sean Smith's joint banter, which always remains fresh and new. Four albums down the line and The Blackout have had countless big singles to make them the ideal festival band. 'I'm A Riot? You're A Fucking Riot!' is the perfect end to Liverpool's first ever Radstock and, on this showing, there's sure to be many more to come. [MH]
---
HARD TIMES CLOTHING STAGE
FOR EYES – 6/10
Opening up the Hard Times Clothing stage, relatively unknown noisy lot For Eyes set the tone right nice and early. Frontman Dan Kenny jumps right into the crowd pretty much straight away, throwing himself about, headlocking people before slamming them to the floor and, at one point, screaming down a megaphone. It's like watching a kid who has downed 10 pints of Red Bull in an hour and it's, if nothing else, a good spot of fun. [ZR]
RAT ATTACK – 6/10
With frontman Mike Hodges wearing a black sequined shirt and gold leather pants, looking somewhat like a missing member of Spandau Ballet, the mood is already set for their energetic and light-hearted punk rock. With topics covering the likes of Facebook and partying, combined with an energetic and tight performance, Rat Attack are worthy of all their recent hype. A quick appearance from Liam Cromby of We Are The Ocean for 'Heartbeat' instigates many more girlish screams too. [ZR]
CARCER CITY – 7/10
Scouse metal locals Carcer City begin to turn the volume up for the bands to follow on the Hard Times Clothing stage. Almost immediately, some of the first true pits of the day open up. Frontman Patrick Pinion commands the stage as the band blitz tracks like 'Disaronno Lips' and treat the crowd to new offering, 'The Process'. With a promise of a new album on the way soon, this may be just the beginning for Carcer City. [ZR]
DEMORALISER – 4/10
It seems to take an age for Demoraliser to finally get started on the Hard Times Clothing stage and, even when they do, there seems to be little interest in Grimsby's finest hardcore. Apart from a couple of enthusiasts enjoying a small mosh pit, big hits 'The House Always Wins' and 'Checkmate' don't really go down as well as expected and the band seem uninspired because of it. An uncharacteristic set from the orange hat wearing metal outfit who are normally on top form. [MH]
MARMOZETS – 9/10
Probably the youngest band to grace any stage at Radstock, Yorkshire choatic bunch Marmozets have soared leaps and bounds over the past few months. As exciting to the eye as they are to the ear, the Northern quartet are incalcuable and refreshing. Already staple setlist additions 'The Perfect Beverage' and 'OneManWolfPack' are as racuous as ever, but peaks into debut album material such as 'Broken Reflection' hints that Marmozets are still just in the infancy stages of their full potential. [ZR]
POLAR. – 8/10
"Everything you know has seen destroyed" shouts POLAR. frontman Adam Woodford as his band rip through tracks to make your ears bleed, in the best way possible. Last year's critically acclaimed 'Iron Lungs' album features heavily today and sounds bigger than ever, along with older favourite 'Tonight Matthew I Am The Batman'. POLAR.'s live reputation precedes them these days and they are gradually, and deservedly, becoming a big name in the British hardcore scene. [MH]
WITH ONE LAST BREATH – 7/10
Having toured with big names in metalcore over the last few years, including Asking Alexandria and Of Mice & Men, it's clear that With One Last Breath have picked up some serious pointers and a decent following, as they've packed out a sweaty Hard Times Clothing stage. The York lads belt out melodic riffs while Sam Graves mixes his clean and harsh vocals expertly, with new track 'Burn Out The Flame' going down particularly well. The pit is fast and messy, clearly the kids really do love this shit. [MH]
MARTYR DEFILED – 9/10
Standing as arguably the heaviest band on the entire festival line-up, Lincoln's Martyr Defiled are a tyrant of a force on stage; frontman Matt Jones holds a voice that would scare half of Jurassic Park shitless and bassist Harry George Johns is impossible to keep still. With a set steering away from album 'Collusion' and focusing on newer material 'Goldstein' and 'Lifeless', Martyr Defiled are a treasure to underground British metal. Harry George Johns puking his guts out towards the final seconds of the set is a testment to how hard they go live. [ZR]
BLEED FROM WITHIN – 8/10
With the recent release of new album 'Uprising', Scottish powerhouse Bleed From Within certainley stepped up with their songwriting, and it seems they've done the same with their live performance too. Frontman Scott Kennedy has an almost animalistic and savage glare with his eyes, whilst the remaining members are whirlwinding their hair whilst they tear through a set including 'It Lives In Me', 'The Novelist' and 'I Am Oblivion'. It seems just a matter of time before the band reap their long belated rewards. [ZR]
BURY TOMORROW – 7/10
Coming onstage more than 30 minutes late due to technical issues, Bury Tomorrow have their set time cut down dramatically. Still, the band make the most of what time they have remaining and cut right into crowd favourite, 'Lionheart'. The packed out room erupt into utter anarchy from start-to-finish, whilst frontman Dani Winter-Bates paces across the stage and screams down his microphone to the likes of 'Royal Blood' and 'Sceptres'. A short yet great close for the Hard Times Clothing stage. [ZR]
---
BIG DEAL CLOTHING STAGE
GNARWOLVES – 7/10
Playing the earliest set anyone has ever played at the O2 Academy in Liverpool, Gnarwolves open the strange balcony stage, essentially playing to a crowd from the ceiling. An earlier slot than the band's hype suggests is due to them having to rush off to London to support Dead Swans, so there's no messing around as they smash through their fast=paced punk rock set as quickly as possible. Unfortunately, the crowd are half asleep and still getting used to the venue layout to appreciate the half hour of new material, mixed with songs from their critically acclaimed 'Cru' EP. Expect Gnarwolves to be a big highlight on the festival circuit this summer. [MH]
DRIVE BY NIGHT – 6/10
Collecting just a smattering of applause, Drive By Night aren't fussed one bit by the lacklustre crowd and are just happy to be playing at such a high profile event at all. Lead vocalist Jake Germain describes the balcony setting as "the closest he'll get to feeling like Bon Jovi" as the Leeds band share their moderate rock with the world for the first time. Humble and pleasant, it's not bad for their first ever show. [MH]
TANTRUM TO BLIND – 3/10
One of the few non-British acts on the bill, Tantrum To Blind's brand of pop-rock, whilst catchy and infectious, is also tad bland and over regurgitated. To the band's credit, they definitely put their all into their set and it's a shame that many aren't willing to bounce along, despite frontwoman Melanie Mohlkert's best efforts. It could be down to the format of the ascended stage, but ultimately it just wasn't their day. [ZR]
LIGHT YOU UP – 7/10
A perfect finish to their tour with stagemates Decade, the Birmingham pop-punks are the first band to really relish the use of the balcony with stand-alone vocalist Tom Napier able to somewhat interact with the crowd. Tracks from their 'Broken Jaw' EP isn't enough to really get the juices flowing, but a rendition of Jimmy Eat World's 'Bleed American' makes the masses take notice in a big way. Happy-go-lucky Light You Up have an exhilarating sound that could be ready to really take off this year. [MH]
DECADE – 8/10
Pop-punk up-and-comers Decade are used to being on the ground beside their audience, or maybe a foot or two higher, but completely ascended above them on the Big Deal Clothing stage is definitely new ground (pun intended). Still, the Bath based quartet deliver their hooks with precision and finese, opening with 'Home Alone', immediately getting people below them bouncing along. Though the band were restricted to being less energised than normal, looks into new album offerings 'Fool's Gold', 'British Weather' and 'Brain Freeze' sees the band looking to the future and, based on these tracks, the future looks bright. [ZR]
BLITZ KIDS – 5/10
"Hype" is a word that has surrounded Blitz Kids over the past few years, and the pressure to suddenly burst into being a huge band overnight seems to finally have caught up with the Nantwich boys. Singer Joe James is happy to jump over the rail to get as close to the action as possible, but struggles to get people to do more than tap their feet. 'I Am A Warrior' echoes round the room nicely and the new songs sound like an improvement on 'Never Die', but it looks like we will have to wait until their upcoming album is released to really appreciate them. [MH]
STRAIGHT LINES – 7/10
Nice guys Straight Lines have released two great albums over just a couple of years, and it shows that their hard work touring has paid off with a headline slot at the Big Deal Clothing Stage at Radstock this year. Their set heavily concentrates on their sophomore effort, 'Freaks Like Us', with 'Empty Chest' and 'Commitments' blasting through the room so loudly that even the noise of The Blackout's sound check can't stop them. The Welsh boys close the stage tonight with class, and may have even earned a new fan or two. [MH]
---
Written by Zach Redrup [ZR] and Michael Heath [MH]
Founder & Editor for DEAD PRESS! | Atheist and antitheist. | Judge of the quick & the dead since 1989.